First—maybe only—invitation to Ho'oponopono for Mother Earth
Happy Sunday! And Happy Anniversary to me. One year ago tonight, I went to bed a writer. One year ago tomorrow, I woke a Prayer Artist, and everything had changed.
As you read this, I'm in Sarasota, Florida, a couple hours south of me, leading my very first Embodied Prayer Yoga Workshop.
Embodied Prayer Yoga workshops were not on my radar screen—or anyone's for that matter—when the year began.
But, as you know, if you've been reading these Notes from the Field for a while, Prayer Artist is a living energy field.
She's like a moving river and I'm the woman in the boat. Prayer Artist didn't come out of my conscious mind. I didn't plan this or ask for this or even, in my wildest, imagine I could be a Prayer Artist, or that it would fall to me to redefine prayer.
But here I am. And wouldn't Sister Mary Margaret be surprised!
I am, not only downloading wild, sensuous, mystical prayers that sound and feel and move through the body like love songs, but I'm offering them in several brand-new forms.
Like Prayer Videos.
My partner in love songs, Timothy Frantzich, is in China right now volunteering at a Waldorf School. When he's back, he and his gorgeous group, Sofia, are going to work with me to create music for several of my prayers. You can hear a clip of what they did with the chorus of "Do You Feel That Breeze" which will be the theme song for the new podcast, Praying at the Speed of Love.
The podcast, by the way, isn't ready. I recorded the first show, thinking it would be great fun to open the show on this anniversary weekend, but I'm still working with Amy Isaman, my incredible web designer, Jamee Thumm, my brilliant podcast producer, and Sandy Cromp, the most fun graphic designer on the planet, to create a Show Notes page for each show that will be completely unlike any podcast you've ever listened to.
We tend to think "podcast" means "listen." And it does. But what then? What happens AFTER you listen to a guest talking about their intimate relationship with prayer.
Well, on Praying at the Speed of Love, you're going to receive a rich, detailed show notes page with info about the guest, "Prayer Action" suggestions on how you can embody what you heard on the show, and—this is the best part—open a "Prayer Bag" with a gift from each guest.
And then, pop over to the special facebook group I'm creating to talk about the show with a global community of listeners AND talk directly with the guest.
I'm just a little excited. The moment everything is ready for you, I'll announce it in this Notes from the Field newsletter.
Another new way to pray is Embodied Prayer Yoga Workshops. The outline came to me on that wild river of love one morning in deep soul writing. I looked at the clear crisp outline on the page and said out loud, this is great, but where am I going to do this?
Forty-five minutes later (!) Karen Ledesma, owner of 365 Yoga in Clearwater called out of the blue and said, "I don't know why but I just feel I need to give you my studio to do anything you want." I just laughed. What else can you do when the universe is so clearly taking care of things.
So Karen and I booked an event at her studio for March 17.
Two days later, I got an email from the owner of Garden of the Heart in Sarasota, asking if I'd consider doing an event at her studio. And that's where I am today.
It looks like Embodied Prayer Yoga Workshops are a thing.
Want to hear an even more outrageous brand-new way to experience these new prayers? Are you ready?
I got a call from Unity of Minneapolis to do a Prayer Concert. Can you imagine!
Timothy and Sofia and I are going to present the first ever Praying at the Speed of Love CONCERT on June 12. Save the date.
And while you're at it, save the date of June 14-16 for the first ever Praying at the Speed of Love RETREAT at the Carondelet Center in St Paul. Registration coming soon.
As you can see from this wild list, Prayer Artist is, well, an ART form. And she expresses in a wild array of media: love songs, music, concerts, yoga workshops, interactive podcast.
And, Prayer Intensives.
The first thing I offered in my new role as a prayer artist was a prayer intensive last April, The Goddess Forgives, a deep exploration of Ho'oponopono with Kahu Lahela Johnson in Hawaii. Seventy people came to the first, then 90 to the second and 104 to the 4th which ends tomorrow night. A total of 344 people!
The numbers are pretty startling, but what's really startling and so precious and holy, is the healing people are experiencing.
The next Ho'oponopono intensive starts in just 11 days on Saturday, March 9 at 2pm eastern.
After 4 deep personal experiences with Ho'oponopono, we are turning our love and prayers toward our shared mother, our One Mother, Mother Earth.
For millennia, humanity has cherished and honored her, grateful for the breath of her trees, the food of her plants, the water of her rivers. Everything we need for life is given. And for thousands of years, we humans, walked her fields in gratitude.
But in the last two hundred years or so, we have lost touch with the sense of awe and respect we owe her. And you can see the result.
The forests are on fire, the oceans are warming, the glaciers are melting, and species are dying. Tornadoes sprout where they've never been. Hurricanes are so fast they're creating new categories. Earthquakes happen where land is fracked, land that has never experienced earthquakes before. And houses flood and basements crack all around. Rains come and come and come and come. Maybe Noah should come back. (He better be a woman this time.)
When we are in distress, what do we do? Pray.
Right?
In the first 4 Ho'oponopono intensives, we prayed to cut the aka cords of disharmony and imbalance that constrict and contract our own personal radiance.
As we pray, we can see and feel our radiance return as the aka cords are transmuted into the pathway of light.
Forgiveness is real, so real, you can feel it in your body.
So, Lahela and I had a big AHA that we are called now to cut the aka cords of greed that constrict our Mother.
We invite you to come and pray this powerful sacred ancient prayer of freedom with a global community of sisters and brothers who love and cherish our Mother.
This is your first invitation. There will only be one more, next Sunday—if there's still room.
We are 104 in The Goddess Forgives; My Body Heals and I'm holding spaces for them inHo'oponopono for Mother Earth.
I can have 100 live on a call, which translates to about 130 registrations (because not everyone can be live on the sessions.) Everything is recorded plus lots of bonus videos.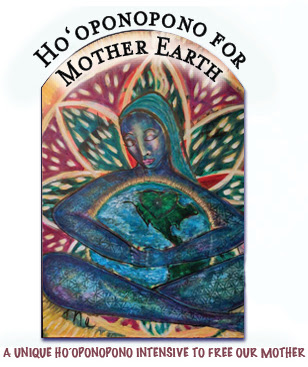 We open Saturday March 9 at 2-4:15 pm Eastern. (world clock for all time zones on the intensive page.)

Watch the vide Lahela and I made and read aboutour sacred purpose and our schedule.
When you register, notice that there are 3 options, including a self-selected scholarship for those who could not otherwise participate.
to contributing our energy, our love, our prayers to the healing of our Mother Earth,
Janet