The strange gifts of quarantine, pilgrimage, and prayer
"What matters most on your journey is how deeply you see, how attentively you hear, how richly the encounters are felt in your heart and soul."

Phil Cousineau, The Art of Pilgrimage
Friends, soul writers, and lovers of prayer,
This has been a truly strange yet wildly magical week.
Once upon a time, I had big plans for this week. I intended to be in New York City for my son's May 15 graduation from law school. Every parent wants to celebrate a milestone like this, but for Jerry and me, this is so much more.
On Friday, just hours before his virtual graduation, Facebook posted a memory that dropped me into wonder and tears.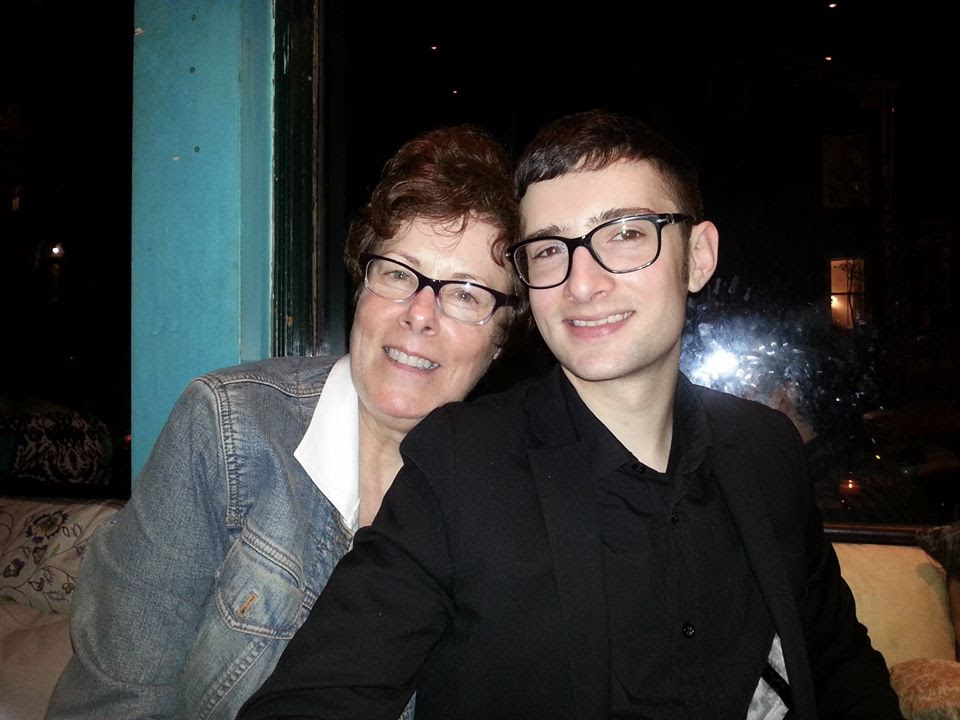 The memory was of a photo taken in a New York restaurant the night before Jerry's appearance in front of a secret federal grand jury seeking to force him to name other activists in Occupy and the radical left.
To protect his friends, he refused to speak. The price for his silence was 253 days in a high-security federal prison.
While in prison, he changed his career plans from a PhD in philosophy to law school.
The first thing he did when he was released was stand in the bitter cold in his prison jumpsuit, look up at the guys on 9 North, and promise them he would become an attorney to keep people from being locked up.
So the timing of his graduation from law school exactly seven years after he made a commitment to sacrifice his freedom to protect our right to dissent is, well, nothing less than perfect.
In that time long ago before the pandemic, I thought after his graduation and celebratory dinner, I would rent a car and explore the Hudson River Valley, taking my first steps to find my new home there.
Instead, I'm at home in Florida. Quarantined. Just like everyone else. Instead of flying and driving and celebrating, I'm sitting outside for hours on end deep soul writing about the radical concept of Original Prayer.
I'm not unhappy about this. Starting in March, I began to shift my perception of this time from quarantine to pilgrimage—and a pretty radical pilgrimage at that.
I see this time as an opportunity to go on a long silent walk deep within my soul. And on that walk, I am making some pretty radical discoveries.
The most radical is Original Prayer. Since those two words first tumbled onto my pages, Original Prayer has grabbed me by the heart and won't let me go.
Last Sunday, I spoke about what makes an Original Prayer original.
This week, as I sat outside in the morning in the shade, Original Prayer took me a little further down my pilgrim road, showing me how these 5 mystical prayers, each born in a different part of the world, weave together into one sacred tapestry of infinite beauty.
The five Original Prayers are talking to me, and that feels quite miraculous, but the real miracle, I'm beginning to see, is it that they have been in an intimate love relationship with one another since time began.
As the five prayers gently slip out from all the veils our various religious traditions have put them under, I feel they are inviting me to step into a very ancient dance, hear a most ancient song, and watch in awe as the divine fingers weave them into the most sacred tapestry of Original Love.
After 23 years of deep soul exploration, this is the deepest exploration I've ever encountered. The deepest insights into the fertile power of prayer. The deepest walk in The Mystic, I've ever taken.
And it is all happening because of quarantine. Isn't that the strangest paradox.
If I were in New York right now, none of this would be happening. In order to hear prayer speak to me at this depth, I had to be here, in isolation, in silence, sitting in my chair hours on end.
What prayer had to say this week takes my breath away.
I was wondering on the page on Wednesday what the five prayers have in common. The answer condensed down to two things: they all access the limitless and they all have a clear reliable structure.
How's that for a divine paradox: expansion through structure.
I sat still for a while staring off in space letting that digest, and then I suddenly wondered what the central intent of each prayer is. And this flowed onto the page in a few seconds.
Anointing—to prepare
Ho'oponopono—to release
Rosary—to request
Labyrinth—to receive
Tree of Life—to become whole 
Look at your hand. speak these five sacred desires finger by finger. Notice if they feel complete to you.
I gave this list to two mystics I adore, Rabbi Tirzah Firestone and Kahu Lahela Johnson and they both said yes, yes! This is a complete tapestry of prayer.
In perfect harmony, Kahu Lahela and I met this week to create a radical prayer intensive on Ho'oponopono that will open in June. Watch for an announcement about that intensive next Sunday.
Until then, enjoy this gorgeous conversation on Praying at the Speed of Love with Phil Cousineau on The Art of Pilgrimage.
And in your quiet time of quarantine, ask prayer where she wants to take you. Like me, you might find that you are in the most sacred and holy and loving hands. And suddenly you're not really in quarantine at all, you're on a sacred pilgrimage!
to walking the radical pilgrimage into the soul of prayer,
Janet
PS Here's last Sunday's Notes from the Field on Original Prayer if you missed it.