What would happen if you were unleashed?
There is a vital connection between creativity and mysticism. To make art is to make love with the sacred.
Have you heard of the creativity teleseminar,Woman Unleashed, with Amber Bonnici in Hawaii? Hundreds of you found me for the first time in aWoman Unleashed retreat the summer of 2016. It was great fun, I met spectacular women, and I was sorry when it ended.
Last month, Amber asked me to return. The timing couldn't be more perfect because I am on fire to tell my own wild ecstatic creative story—a story that began the moment I said yes to a startling call to be a prayer artist.
But as I was preparing my conversation with Amber, I found myself cycling back to this word, "unleashed" over and over again. It wouldn't let me go until I chewed on it, swallowed it, digested it, and finally unearthed the treasure.
Unleashed.
It's a little creepy, isn't it.
Because.
Before you can be un-leashed, you have to acknowledge that you have been leashed. Right? Not a pretty picture. Part of me wanted to skim right past that image and just get into the juice and joy that comes with saying yes to a creative mystical life.
But my guidance wasn't having it. There would be no conversation until I did some deep introspection.
Unleashed.
And so, I sat down and looked at this word. This image. This painful reality. Like it or not, being leashed has been our reality. Our feminine reality. For five thousand years.
And I saw clearly that acknowledging the leash and then, removing it, is what being a prayer artist is really all about.
Because.
As a prayer artist, my first job is to redefine prayer.
Poor prayer. She's been trapped—leashed—by the patriarchy into a tight constraint of worshiping an external, judgmental, masculine god. There hasn't been room to worship a goddess, mother earth, or our sister, the Moon.
Prayer has been fettered by formulas and rituals written by and for men. There hasn't been room for dancing around sacred fires or chanting to the Moon in a sacred circle of women.
Prayer has been pinned down to a tiny circumference of begging an external male god for protection and prosperity. There hasn't been space for joy and celebration. And ecstasy? Oh no, there's no room for that.
In short, prayer has been leashed.
So here I am, this one woman, this one seventy-year-old woman. This one woman who knows too well what it feels like to be crammed into a tiny tight box of patriarchal religion and told repeatedly that her only job was to be quiet and obey.
This one woman has cut that cord. Taken off that leash. And found herself dancing in a whole new world of ecstatic, feminine, embodied prayer.
And having the creative time of her life!
I now see and feel the intimate union of prayer and creativity. Mysticism and art. The feminine divine and the feminine body. The divine feminine and me. The divine feminine and you.
As I planned this conversation with Amber, I realized that I am utterly and completely unleashed. It's taken a long, long time, but at last, I can say that patriarchal religion has no hold on me.
I am free to redefine prayer.
I am free to create whole new prayer art forms.
I am free to create prayer intensives and whole new kinds of mystical experiences.
I am free to create Original Prayer Yoga.
I am free to create the first ever prayer concert (coming in June in Minneapolis).
I am free to create a whole new kind of Original Prayer Retreat.
I am free to remember ancient truths about prayer that are written nowhere.
I am free to experience prayer in every cell of my body—my woman's body.
I am free to fall in love with life. And with freedom herself!
So when Amber and I got together to record, the first thing I said is, "I am unleashed!"
I do hope you'll join Amber and me in the ongoing series, Woman Unleashed. Over 60,000 women have been in these events. Amber obviously does a superb job of gathering unleashed women to help other women discover their own creative freedom.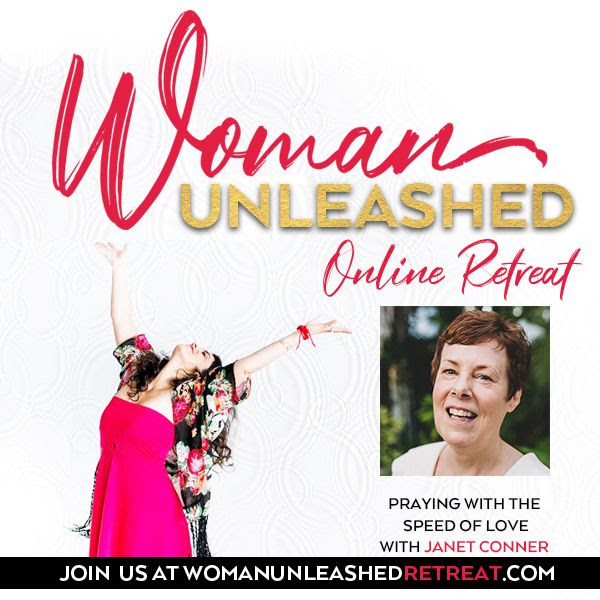 My conversation airs this coming Wednesday, April 17. The event is free. But you have to register. After my event, stick around for more conversations with women who have discovered that saying yes to creativity changes your life because it takes the leash off.
Register here:
to a life of creative freedom and joy,

Janet
PS: A few things this wild creative soul is creating. Watch for registration opportunities in next week's newsletter. I think I'll send it out on SATURDAY rather than Easter Sunday.
Original Prayer events
First Original Prayer Concert with Sofia--June 12 Unity of Minneapolis
First Original Prayer Weekend retreat with Sofia--June 14-16 Carondelet Center St Paul
First Original Prayer Yoga event--one Sunday a month, starting in July
Upcoming Prayer Intensives
Healing Your 3 Wombs, Sept 9
The Black Madonna, October 7