Who is that Raven at the door?
2023 the year we learn to listen to life
Week 9--in which Raven squawks at our door and we hear him say something vaguely familiar
Friends, soul writers, mystics, witches, and lovers of prayer,
I thought last week was the height of magic.
NOTE: If you missed that Notes from the Field, you might like to read week 8 to begin to sense the door at the Threshold between worlds that is opening right now.
I've been exploring the Threshold between worlds for 26 years, ever since I stumbled, quite by accident, upon how to jump across it while journaling.
But once I tasted that magic, once I began to hear that magical voice, I never looked back.
This is where I live. This is what I love. This is where I invite you to come and play with me in all my prayer intensives.
And I've noticed—as you, who've played with me have noticed—that each time we gather, we go somewhere new. Somewhere deeper. We drop into places we didn't know were even possible.
And come up ecstatic. Singing. Stunned to touch and be touched by a joy that's singing just below the surface of this world with all its rules.
If you thought—as I once did—that we have to work hard to have a spiritual life, I have sweet news for you. That's just another lie in their garden of lies.
Lies that describe a judgmental divinity who dictates laws (lots and lots and lots of laws) and then waits remote and aloof, to see if we can work hard enough to ascend out of our "sinful" bodies and this "dirty" world, and maybe, just maybe, please him enough to ask to approach the bench.
We try. We so try. We follow the rules, we pretzel ourselves into shapes to fit the world's expectations. And after trying for way too long, discover we can't.
The rules are set up for failure.
When we come to this realization, we find we are standing at a bifurcation point with a choice: work harder or walk away accepting we have failed.
But those options are both life-squelchers. And they're not the only ones.
There is a third choice.
A magical choice. A delicious, intoxicating, ecstatic choice. A choice that throws the door between worlds open wide. With our toes on that threshold, we can hear a soft thrum of life rising through the earth. We can smell a faint perfume of beauty wafting on the air. We can squint into the dark and begin to realize darkness isn't scary; darkness is life.
As we peer into the soft dark, we notice someone standing there. She has many names, countless names, names that have been honored through all time.
But in this moment, She has arrived with a new and most delightful name: Our Lady, Queen of Magicians.
She, who announced that the magical world opening on March 26 has a name—Mystica.
She, who knows the time has arrived to awaken, remember, and trust our body's natural intuitive senses.
She, who has given us an anointing so feral it opens our eyes to see what we cannot, our ears to hear what we cannot, and our whole bodies to know what wants to be known.
She, who gave language and song to the plants and animals and stones.
She, who dreams us—all of us—into being.
She, who created a world in which everything is alive, everything is conscious, everything is communicating.
She, who knows we are ready to support one another in learning The A.R.T. of Becoming a Witch 
I've been listening every day (and night) to Our Lady, Queen of Magicians. And sharing all I'm hearing with my collaborators. I am not creating this prayer intensive by myself. It's a mystical collaboration.
And when we collaborate this way, wisdom, ideas, and magic come through everyone.
Often in surprising ways, like Suzi blurting out InnerVersity when we recorded the video for The A.R.T. of Becoming a Witch.
All this week, Cathy Pratt and I have been dancing in this wild space of collaboration. It started when I asked Cathy if she'd like to paint the logo for Mystica InnerVersity. Cathy has painted Archangels Luci and Michael and Black Moon Lilith for previous intensives, and Aurora for this new one. So I knew Cathy is the perfect person to bring Mystica InnerVersity to life.
She and I had the best time this week looking at Hogwart's logo and tossing around ideas. As I stared at that logo, I realized OH WAIT, we need a motto! In Latin! Took us three days and several middle-of-the-night edits from The Queen of Magicians, but we got the shape and symbols of the main image, the words of the motto, and the "school" colors.
On Wednesday, Cathy sent a preliminary sketch.
There was a big surprise on the sketch. Something we had not discussed.
There at the top of the shield-like image was a raven. Raven?
Why a Raven? Cathy didn't know but he sure looked perfect.
It made mystical sense to me, because one of our core books for The A.R.T. of Becoming a Witch is Becoming Animal by David Abram. In that wild magical book, David Abram studies with a shaman in the Himalayas who teaches him how to see inside a raven and after weeks of practicing, David enters the raven and experiences flying.
So, OK, raven.
But Our Lady, Queen of Magicians knew I didn't get it. She knew I didn't understand why Raven has to be the totem for Mystica. So, She nudged me in the night to look Raven up in Medicine Cards.
Soon as I was out of bed, I got the set. And there, in my first oracle deck, a set I have treasured since 1991, was everything I needed to know all these years later about why Raven flew through Cathy's hands onto the Mystica InnerVersity logo.
Read these excerpts slowly. And aloud. Because Raven is speaking to you through them.
The card begins by naming Raven's medicine: Magic.
"Throughout time, Raven has carried the medicine of magic."
"If Raven appears in your spread, you are about to experience a change in consciousness…."
"Raven says, 'You have earned the right to see and experience a little more of life's magic.'"
"If you have chosen Raven, magic is in the air. Do not try to figure it out; you cannot. It is the power of the unknown at work and something special is about to happen."
That sent me to Animal-Speak by Ted Andrews:
"With Raven, human and animal spirits intermingle and become as one…"
"Raven has the knowledge of how to become other animals and how to speak their languages."
"Raven speaks of the opportunity to become the magician or enchantress of your life. Each of us has a magician within, and it is Raven who can show us how to bring that part of us out of the dark and into the light."
"Raven speaks of messages from the spirit realm that can shapeshift your life dramatically."
As I was writing this newsletter, Cathy sent this photo she took in Alaska of a Raven she'd been talking with for an hour.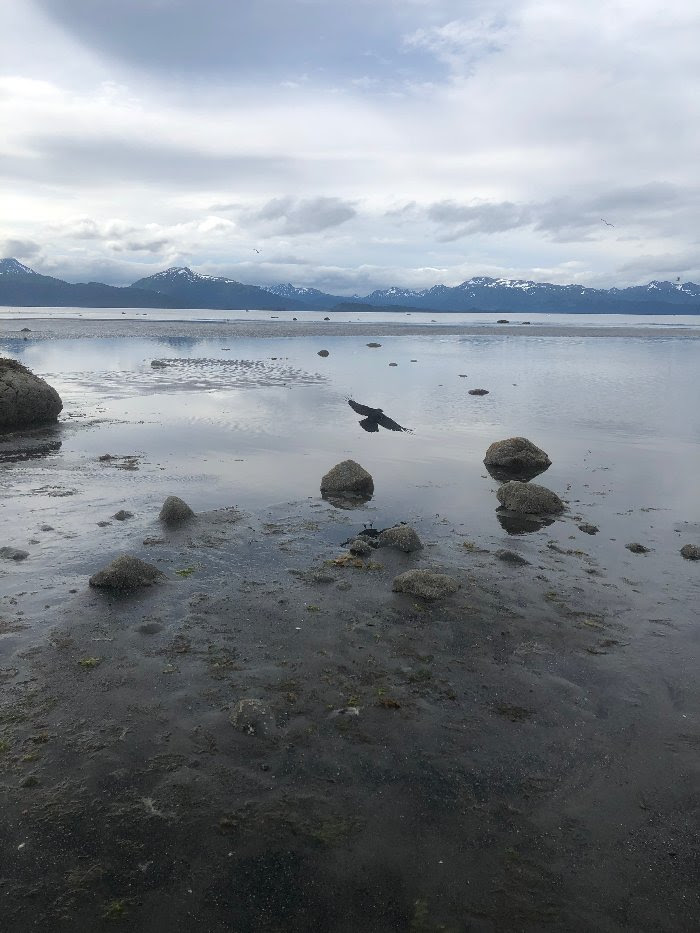 I stared at this photo for quite a while. It seemed Raven was flying away from Cathy and me and all who look at this picture because he is beckoning us to follow.
I finished writing, got up, stretched, and looked out the window. And clearly heard Raven say:
"It's time to come to your senses."
I laughed. Of course! Don't we say this all time: I came to my senses..., I hope he comes to his senses..., these people have no sense...
We say this without realizing what we're really saying. Without realizing it, we're casting a wee spell, a reminder that we can awaken, remember, and trust our REAL senses.
The A.R.T. of Becoming a Witch: How to Awaken, Remember, and Trust Your Body's Natural Intuitive Senses
I do hope you'll visit the special page my collaborators and I made for you. Watch our joyful video. Read the description of the 5 intuitive senses. Pick your registration. (There are three options)
And come to your senses--your original, magical, joyous senses. Just the way The Queen of Magicians made you.
We open Sunday, March 26 from 2-4:15pm Eastern and run through June 11. All details are on the landing page. Click on the link below Cathy's painting of Aurora.
Aurora is you with your intuitive senses wide open.
to coming to our senses!
Janet
PS: Cathy and I are completing more delicious images for Mystica which we hope to show you next Sunday. But please don't wait to register. I'm opening our facebook group on Tuesday so we can all start playing in this delicious sensual world. And what will you find there? Lots and lots of Raven magic!
website: janetconner.com
facebook: janet conner prayer artist
YouTube: Janet Conner