A closing prayer of Love for 2022
2022 the year we learn to listen to love
Week 52--in which we look back and ponder what we heard in this year of "learning to listen to love"
Friends, soul writers, mystics, witches, and lovers of prayer,
I've been listening in the silence for the theme for these Notes from the Field letters for 2023. The theme always comes at the last minute. As well it should. Because it's not an idea sprung out of my head, it's a calling whispered in my ear. That's inner ear, not physical ear.
Occasionally I have heard whispers in the night that sure feel and sound like someone is leaning in and whispering in my left ear. That's how I heard prayer artist in February of 2018. And how I heard woman speak truth in July of 2021.
That second one took me several months to grow.
It's not a command or the name of a future intensive, or any of my usual interpretations.
It's my name. My true last name. It is the name of my mystic family. Conner is the name of my biological family in this lifetime, but Woman Speak Truth is the name of the family of souls that has held me in love lifetime after lifetime after lifetime.
If you've been in any of my prayer intensives, you've heard my mystic family prayer. This is such a radical and essential awareness, that I think it needs to be a short prayer intensive next year, so everyone understands what a mystic family is, receives their personal mystical family name and prayer, and begins the daily practice of invoking their love and guidance.
During the last week, as I recorded parts 1 and 2 of the 3-part 2023 Astrological Forecast with Emma Kupu Mitchell and Marcia Wade (watch for the forecast next Sunday in the first newsletter for 2023), I began to sense a theme emerging.
So I think I've got the name of the newsletter for next year, but I'll wait till the last minute to see what She has to say.
What I can tell you now, is that during these closing days of 2022, our 6 year, the year we all got pregnant with love, it's time to look back and ponder all the ways and times we "learned to listen to love." It wasn't easy, was it. The world seemed to be immersed in anger, war, opposition, unrest, screaming…. And sickness. I know more people who got sick—big sick—this year and oh so many who died.
And yet. And yet.
Isn't this exactly when it really matters to listen, listen hard, for the faintest sounds of love.
I think it's not an accident that the lunar prayer I say every day since our new lunar year began on April 1 is "I hear echoes of the song of the morning of the world, and I listen in wonder and awe." Slowly, I'm becoming aware of what a profound prayer this is. And it reminds me to stop, stop, and listen.
So in deep soul writing this week, I've been asking myself when and how and if I learned to listen to love.
And the first big AHA that came wasn't about any particular events this year, but about the BIG songs of love that I seem to be given on December 26.
What is it about that date?
There's something so magical about December 26 that tomorrow I will do nothing but pray and read and soul write and listen. Because I know She will have a kiss of love to give me.
The first time I noticed Her kiss of love was December 26, 2014 when I was so sick that I did nothing for 40 days and 40 nights but sit in my writing and reading chair. On December 26, I picked up my journal for my usual deep soul writing and could not—could not—write "Dear God" or even "DG," my salutation to my divine voice since 1997.
I remember staring at my hand: what's wrong with you?
Out of my hand came Beloved Vibration of Sophia! complete with exclamation point, and with that my body felt a whoosh. A going and a coming. A complete inversion.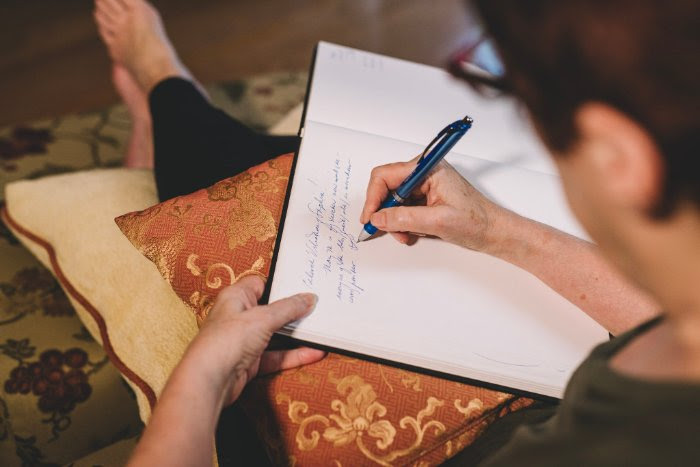 In that moment, everything changed.
In that moment I suddenly realized that god, as we have been taught, does not and cannot fit a woman's body. And when Goddess fits, totally fits, my female body, infusing every cell with her ecstatic, delicious, juicy love, everything changes.
All patriarchal constrictions fly out the window.
In that moment, I found myself totally empty, yet oh so full. And my new life, my real life, my life in and with and as Sophia, the Sacred Feminine, began.
December 26 became a holy day for me.
So maybe I should have anticipated more juicy arrivals on December 26s to come. But I didn't. It was a total surprise on December 26, 2019 to receive a new prayer in the dark.
I know what it feels like when a prayer is coming.
There's a feeling, a frizzing in the air, an aura of sorts that surrounds me and I know to reach out and put the yellow pad that is always beside me on my stomach, and with my eyes still closed, hold the pen in anticipation of the prayer to come.
This has happened rather often. I know the feeling, I love knowing a prayer is arriving, and I cherish receiving these love songs. I listen and write quickly in my scratchy-scratchy, middle-of-the-night handwriting. And when nothing more is forthcoming, I smile, whisper thank you, and go back to sleep. In the morning, the first thing I do is look at that yellow pad and decipher the handwriting while I can still remember a bit of what I heard.
But on December 26, 2019, even as I took dictation in the dark, my breath quickened, my stomach tightened, and my whole body curled into a fetal position. I came close to screaming NO.
Because I knew what I was being given. And it frightened me.
This prayer, The Queen's Love, is the complete inversion of the prayer I and all christians have said hundreds, thousands, of time: the Apostle's Creed.
When I started saying the ancient Goddess Rosary that November, I struggled with how to begin, because there was no way I was going to ever say one word of that atrocious creed ever again. The words would choke me.
Because after Sophia arrived and swept all patriarchal conditioning away, it was clear—painfully clear—that I had been lied to. That creed is carefully designed to squelch any inkling of the Sacred Feminine and Her eternal truth of Life, Death, and Rebirth right out of you.
And yet, I wasn't exactly thrilled to be given this prayer. Even though my heart soars in joy every time I say it. And I say it every day.
As the words flowed onto the page, I felt only fear. Fear that the patriarchs would come after me.
Of course, they haven't. This prayer has been welcomed by hundreds, at this point probably thousands of people.
But back in 2019, I think my body curled up because it remembered what was done to women, to witches, and to all who spoke the truth—that love, Her Love, never dies.
This is the truth the Cathars knew.
The truth Mary Magdalene and her beloved knew.
The truth Joan of Arc knew.
The truth the ancients knew long before the patriarchs with their gods of law and weapons of domination silenced our voices.
So, in honor and celebration of Her sacred voice speaking on December 26, I give The Queen's Love to you.
It feels like a perfect gift to complete 2022, because the numerology for the name of this prayer is a 60. And we are completing a 6 year.
We are, as the number 6, so clearly demonstrates, pregnant with love. If we will only listen.
The Queen's Love
©Janet Conner 2019 (received in the dark early hour of Dec 26, 2019)
I believe in One Mother
and all Her Infinite Faces of Infinite Love
The Sun, the Moon, the Stars, the Earth, the Seas
Hawk above, Fox beside, Worm below
Seen Unseen
We are One Body, One Breath, One Love
Her Body, Her Breath, Her Love
She is our Beginning-less Beginning
She is our Endless End
Turning and returning, turning and returning
We are born and reborn into Love. Into Love
So it was. So it is. So it ever shall be
Life without end. World without end. Love does not end.
This is Her Eternal Truth
to remembering this year and every year that Love never dies
Janet
website: janetconner.com
facebook: janet conner prayer artist
YouTube: Janet Conner