A funny thing happened on the way to the 2022 forecast
The year of the body--Week 51
in which we release the need to know and start dancing in the Field of Possibility
Friends, soul writers, mystics, and lovers of prayer,
If you've been reading these Notes from the Field for a while, you know I have offered an astrology forecast each December since 2015. I'm no astrologer, but I've always sensed there's something important and revealing in astrology.
Something in me recognizes that astrology is a mystical language.
It may be one I don't understand, but the planets and stars keep singing anyway.
I came to this awareness in June 2014 when I gave myself an astrology reading for my 66th birthday. It was my first reading in a decade.
And it changed my life.
I consulted with George Ward, who came highly recommended. George was patient with me, gently pointing out each glyph and what it meant. About halfway through he said, "Do you see Jupiter? Do you see Saturn?" I found them at the top of my chart and said, yes.
George then said, "Jupiter and Saturn are telling you that you will soon be doing a level of work that today you cannot even imagine."
I blinked. Hard. I told George, I had a few more books to write after Writing Down Your Soul and The Lotus and the Lily. He said, oh no. Not that.
This is a level of work that today you cannot even imagine.
I got off the phone slightly terrified. I thought I was already doing rather intense work exploring the mystical theta brain wave state, the threshold between worlds. What, I wondered, could possibly be beyond that—so far beyond that I can't even imagine it.
I spent my birthday weekend in deep soul writing posing this question to my divine voice who had the name "Dear God" or "DG" at the time.
I got no real answers.
Well, George, dear dear George, now swimming among the stars, you were right. Or rather, Jupiter and Saturn were right. Just six months later in December of 2014, "Beloved Vibration of Sophia!" pushed her way onto my journal pages and landed in my body.
And today, as Her prayer artist, mystic witch, mistress of the thresholds, and producer-director in the Theatre of the Miraculous, I am absolutely positively doing work I could never ever have imagined in 2014. And I am oh so grateful!
The following year, I decided to offer an astrology forecast. I wanted everyone to get a taste of George and the wonders of astrology.
That first forecast was such a powerhouse that I've offered one ever since. George died in 2016, so I asked another astrologer to give the 2017 forecast, and then for the next three years, Michael Lennox helped us get a peek into the coming year.
But as 2020 came to a close, I sensed we needed to do something different for our forecast. That wild year of Covid and quarantine upended everything and everyone, and it felt like the right time to change the forecast format too.
I turned to my depth numerologist and elemental moon astrology teacher Emma Kupu Mitchell, for advice. Emma has studied with several astrologers and suggested we try a multi-astrologer format.
One of the astrologers Emma recommended was Star Sister Marcia Wade.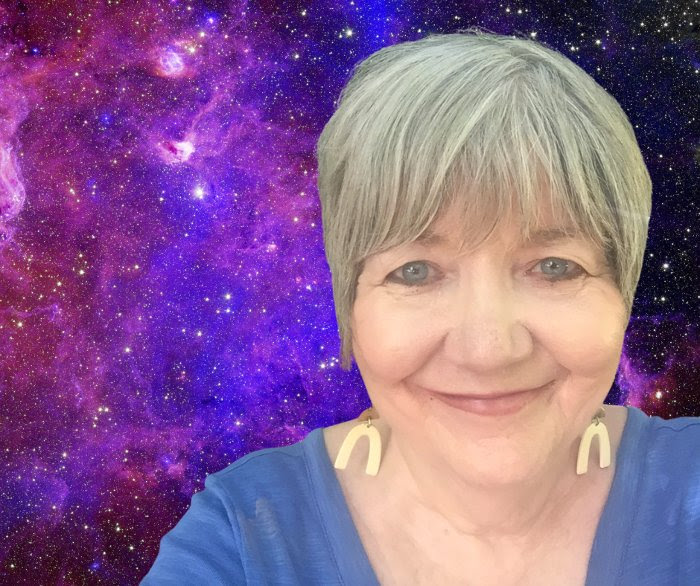 As we began the recording, I asked Marcia about what is coming in 2021 and she stopped me.
Marcia said before we can even consider talking about what might happen in 2021, we need to take time to look back at 2020 and explore how the celestial events created a sacred, dark, mysterious container for all that arrived with Covid and quarantine.
Looking back at 2020 this way was quite the revelation.
Under Marcia's guidance, we looked back at the wild events of 2020 with new eyes, seeing the reality of illness and suffering, not just as illness and suffering, but also as a container for the Feminine Divine to work in and through us, guiding us (not so gently) to begin to wake up to all the changes we have to make in order to create a world where we actually want to live.
In her conversation, Marcia suggested we not look to astrology as a forecast or prediction, but as an invitation to go deep within. When we do that, we discover that the celestial dance is not happening somewhere out there in the solar system, it is happening right now in our own bodies.
Because we are made of stardust.
The celestial story is our story, too. The cosmos isn't out there, it's in here.
I was so moved by Marcia's approach that I asked Emma to invite her to be our shining star guide for the non-forecast-forecast for 2022.
When we began the recording, I asked Marcia what to call the 2022 non-forecast forecast.
Marcia said well, astrology is not prediction. Astrology is a "Field of Possibility."
A Field of Possibility! What a thrilling and profoundly mystical concept. I dare say the planets and signs are smiling and saying, "Well, well, well. It's about time you noticed that we are singing and dancing a cosmic story that begins at the beginning of time. Come and dance with us!"
So the name of our 2022 non-forecast forecast is From Prediction to a Field of Possibility.
I've listened to a lot of forecasts and Marcia's "non-forecast forecast" is unlike any other,
She takes us deep into the dance of Venus and Pluto. An ancient story that has come down to us in countless forms: Inanna. Persephone and Hades. Death and Resurrection.
We think this story is dark and dangerous. Something to avoid. But as Marcia tells it, the story morphs into a rich field filled with whole new possibilities for love. There's magic in those dark weeks when we cannot see Venus because she's in the underworld with her lover. Real magic.
So what dance, what field of possibility are Venus and Pluto inviting us to explore in 2022? Listen to Marcia's rich conversation for a few hints of not just what's to come but how the cosmos is asking us to embrace the possibilities.
Be sure to listen to Emma's recording as well. Emma not only talks about the celestial events, she also takes us into the depth numerology of this profound 6 year as well.
Her great teacher, Pythagoras must be proud.
Enjoy this Field of Possibility.
It's just $22. You'll get the link to the password-protected page as soon as you register. And the recordings will be available through the summer.
From Prediction to a Field of Possibility in 2022
Like me, you've probably heard a lot of scary things about 2022. And you might be feeling some trepidation. I was. And then I sat with Marcia and Emma and took a very deep breath.
The truth is the Feminine Divine is dancing us into being. And that's a dance I'll always join even—or especially—when I don't understand it and certainly can't control it.
Dance on!
to dancing, dancing, dancing in the fields of possibility to find more love
Janet