When we cannot see the path…
This has been a most extraordinary week. I know it seems I open every Notes from the Field with this sentence, but this has been a most extraordinary year, hasn't it.
And this past week felt like it encapsulated the whole wild story of 2020.
On Tuesday, we held the first Mother Moon Yoga on the eve of an extraordinary dark moon with a strange mystical message.
And I mean strange. For the next lunar cycle, we are being fed by this Chandra symbol of Virgo 26. Emma Kupu read us the whole symbol in Mother Moon Yoga and now, every morning, I reread Virgo 26 in Inside Degrees by Ellias Lonsdale, trying to digest the message.
Here are three phrases to give you a taste:
get your bearings, determine your limits, find a reality fix
come down to earth and become sober and straight and clear
there must be a cleaning-up and clearing-up
Wednesday was day 1 of the dark moon, the day we release all that is standing in the way. In other words, "cleaning and clearing." I spent the morning in deep soul writing calling up all I want to release and then literally poured those statements into the earth.
Thursday was day 2, the actual dark moon. It's supposed to be a day of rest, but I had to record a conversation with Simran Singh, the founder of 11:11, for a seminar coming later this year on Mothering.
Now, I'm not a mothering expert by any stretch. I'm not a therapist, life coach, or parenting expert. So you might wonder why I was asked to give this talk.
Because I have mothered a suffering child. I mothered him through a terrifying divorce that led to cutting, dropping out of high school, and thinking about suicide. It all came to a head when Jerry became a political prisoner at 24 which led to horrific PTSD, addiction, and night terrors that left him feeling he couldn't go on.
Mothering Jerry through the worst that can happen was strangely also a time of gifts—difficult gifts.
Thanks to those unbearable experiences, I crawled my way into the healing power of prayer—a full five years before "prayer artist" even came calling.
I see now that I was stumble-bumming my way onto a path that would lead to my true path to be a prayer artist.
So when I got the invitation to talk about "mothering a suffering child," I did a deep dive back through all those experiences to see if I could articulate the foundation that carried me and my son through so much grief and sorrow.
Of course, there was prayer.
And in the talk (which you'll be able to watch later this year), I share four radically different and wildly powerful prayer practices that carried me through.
But I realized that the core underlying foundation—even before the prayers—was the Mother.
Before I could mother well, I needed to be mothered.
Looking back, I see now that this was the moment the Feminine Divine hinted she was coming, almost a year before she actually arrived in my deep soul writing and in my body with the name "Beloved Vibration of Sophia!"
Why am I surprised to re-discover the timing?
I should know by now that the Mother is always ahead of us. She always sees the path to the path when we cannot.
It's one thing to believe that intellectually. It's a whole other thing to hear from the Masters and Teachers of the Akashic record that it's the truth. It's the reality of the love of the Mother.
So it's not an accident that I woke on Tuesday, the eve of the Dark Moon with the name "Mother Sophia" in my heart.
Not just Sophia, but Mother Sophia.
This is the first new name for the Beloved for me in six years. There was a wee part of me that wondered if this was really Her new name. But an hour later, when I wrote, "Beloved Vibration of Mother Sophia!" in my journal for the first time, tears welled and my heart began to sing. Oh yes, this is my Mother.
On Thursday afternoon, I recorded my talk on Mothering a Suffering Child.
To prepare, I got out the heavy bowl of rocks, one for each day my son was in prison, 253 in total.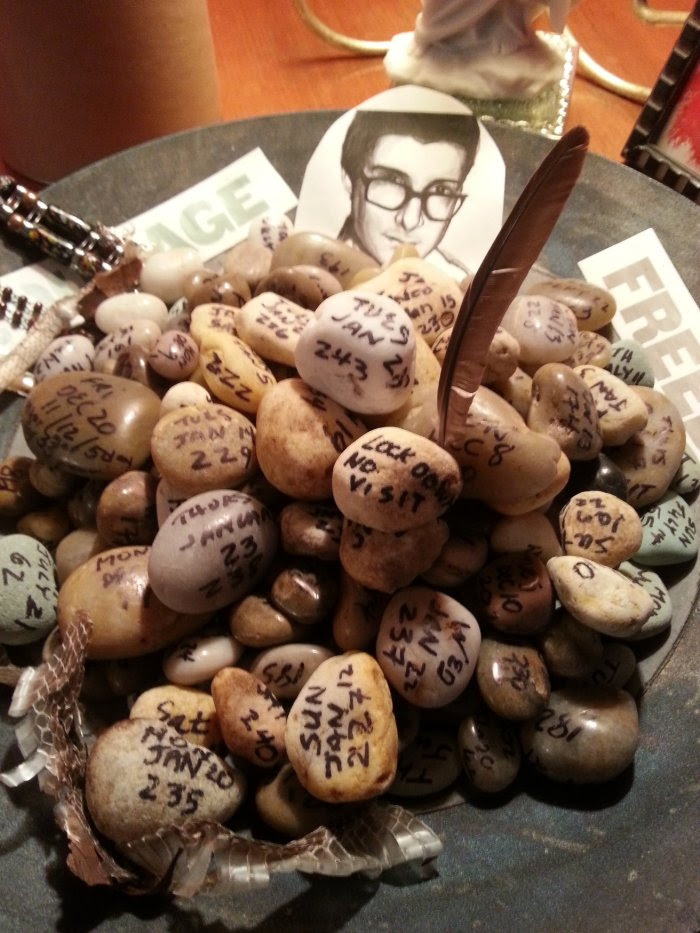 And the Camino stone I wore throughout those 8 months, pressing my prayers into it with my fist until the pale grey stone turned dirt brown.
I got out the photo of the prison in New York and gasped again looking at it. I made slides of the prayers I said while he was in prison.
But after all those hard things, I got out a photo of Jerry graduating from law school this year. And right away, the tears of joy bubbled up as I looked at him in his juris doctor gown and very cool beret.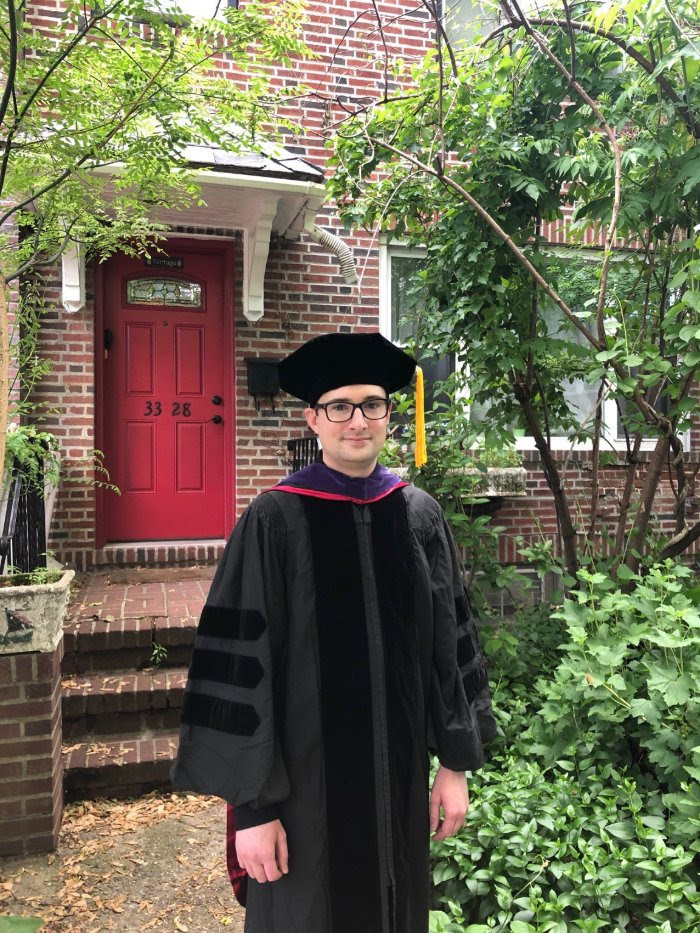 So in my talk, I carried a story of sorrow and pain in one hand, while in the other, I carried the story of strength, love, and even joy.
Isn't that our story? Isn't that the story of 2020?
We are carrying so much grief.
Grief for the dead.
Grief for the earth on fire.
Grief for the animals facing extinction.
Grief for the women in detention centers having forced hysterectomies. (May the whistleblower be forever blessed.)
Grief for the Black families burying more victims of police violence.
Grief over the behavior of my government.
Grief over our unwillingness to live in harmony with one another and with Mother Earth.
And then came Friday.
Friday was Rosh Hashanah, a holy day marking the beginning of a new Jewish year. A day of joy and celebration. Apples and honey. Greetings and song.
But the day quickly turned into a day of great sorrow as the soul of our great champion, Ruth Bader Ginsberg, took flight.
With the news, my stomach clenched with fear and my heart flooded with tears. Bereft. I think that's the word. I am bereft. We are bereft.
But Justice Ginsburg's soul is not. Her soul is wise beyond wise.
Do you know what it means to die on the holy day of Rosh Hashanah? In the Jewish mystical tradition, it means the person is tzaddik, a person of great righteousness.
The amazing thing about this honor tzaddik, is that it comes from the Hebrew root Tz-D-K which means "justice." It's the closest thing to sainthood in the mystical Jewish tradition. A tzaddik becomes a conduit, a channel through whom grace flows.
Ruth, whenever you're ready, we await your showers of justice and grace. Please help us find the path to harmony and wholeness, justice and beauty here on earth.
That path is there, we just can't see it. We can't seem to find our way.
We are all stumbling around trying to live through a year of quarantine and pandemic. A year of explosive divisiveness. A year of blatant racism. A year of environmental devastation.
How do we, as the Virgo 26 Chandra symbol says, get our bearings and start the necessary cleaning and clearing?
As I prepared my talk on mothering, I realized I received the answer to this question from the Masters and the Teachers of the Akashic record back in August of 2018.
I had turned to them for help understanding my new calling as prayer artist. As the consultation was ending, I thanked them for teaching me prayer practices that supported me as Jerry moved through prison and PTSD and into sobriety until he could hear his calling to become an attorney to keep others out of prison.
Listen very carefully to what they said because I think it applies to our current situation.
"There were many futures for Jerry, there were many roads he could have taken. Your love, your prayer, your faith and trust helped lay the foundation and hold the space for the choices he made.
Yes, he has chosen a path that was not easy for him to find, therefore your love and assistance helped clear the path to the path that he is now on.
It was there but it was not visible to him. He could not find his way to the path. Your love for him helped clear the path to the path. He didn't have a path to the path. It was not the predominant outcome he was ready to take at the time that things became dire, you held and held and held to a knowing and a truth that allowed him to walk the path to the path."
Did you notice that they did not say "the path." They said "the path to the path" and they said it 4 times. (2020, you might remember is a 4 year.)
I think they're trying to get something through to us.
We don't have to find THE path. In fact we can't. We are so far away from it that we can't see it, and we don't know what it is, or where it is, or how to get there.
The condition of life on earth in 2020 makes it pretty clear that we are not on any kind of healthy harmonious path.
But that doesn't mean the path doesn't exist. Right?
While my son was falling apart in prison neither he nor I could see anything resembling a path. But it was still there. And slowly, step by difficult step, he followed the hints of light in front of him, and found his way.
It wasn't easy. It wasn't fast. In fact, it was arduous. But he cleared and cleaned his body and his life, and slowly, slowly found the path that led to the path.
I didn't really appreciate the Masters and Teacher's guidance on "the path to the path" until I reread what they said for my talk on Mothering a Suffering Child.
When Ruth died, I was awakened in the night hearing the words "the path to the path."
This is the task before us as 2020 draws to a close. We have to find the path to the path.
We have to find our foundation in The Mother.
We have to pray powerful mystical prayers.
We have to walk the path to the path together.
No one gets left behind.
And, as a prayer artist, I am working right now to create prayer intensives for October, November and December to help us walk that path to the path.
In October, watch for Finding Home, a very different and very practical intensive helping us come home to our bodies, our places and our Mother in the Mystic.
Lotus and Lily will open in November. And what a wild intensive that will be. I can't even begin to imagine how to create a mandala for 2021.
And in December the incomparable Rabbi Tirzah Firestone is going to lead us in a 3-evening ceremony to close this strange and yet very holy year.
All coming soon. For now, why don't you take a few questions into deep soul writing, asking your Beloved for guidance to find the path to the path.
May Ruth Bader Ginsberg be a blessing holding a flashlight on the path to the path before us. May she and The Mother guide us all onto the path to the path of our true home. 
Janet
PS: We just had the first of 8 Mother Moon Yoga experiences for the duration of 2020. If you feel called to enter into this deep mystical practice that incorporates moon wisdom, ancient prayers, mahina (moon) anointing, and deep soul writing into yoga, You are invited to join us. I'll send the first recording right away.