A call to transfiguration on this sacred 333 day
Do you know what today is? If not for my yoga instructor, Ramani Vaught, I might have missed the significance. And it is significant!    
Today is March 3, 2019. Our solar year is a 3 (2 + 1 + 9 = 12 which reduces to 3). And March is the 3rd month.
So today is a 3-3-3 day. A triple 3.
This entire year is a sacred invitation to step into the mystical power of the 3. So today seems like the perfect day to pause and consider how we are expressing the 3 in our own lives.
My exploration began in January as I led Your Three Fields in 2019 with soul essence alignment artist, Emma Kupu Mitchell. In that intensive, we dove deep into the meaning of 3.
3 is creativity. It is the trinity.
It is what happens when the divine masculine energy of action in the 1 unites with the divine feminine wisdom energy in the 2, and together they create something that did not exist before—the 3, the divine child.
To bring the 3 to life, Emma and I created a full-body anointing practice in which we visualized standing inside a tetrahedron and from within that pyramid, moved the sacred geometric shape of the triangle down from above our heads into our hearts and down into our wombs. Each time I did it, I could FEEL the energy of creation settling inside me, and asking me to create more divine presence on earth.
So this particular day feels triply holy because it is a multiple of 3.
33 is a master number representing Eternal Truth. It is considered the single most powerful of numbers because it is the combination of 11—the Master Number of Light and 22—the Master Builder.
33 is the child of the Light and the Builder. Truth made visible.
And 333? That calls forth Sacred Alchemy. Transmutation. Transfiguration. 
Such big words. But these are big times, and we are all called, ready or not, to contribute to the transfiguration of our world.
Transfiguration of our bodies.
Transfiguration of our relationship with our selves.
Transfiguration of our relationships with others.
Transfiguration of our spiritual communities.
Transfiguration of our governments.
And transfiguration of our precious Mother, Mother Earth.
Perhaps that last one really is the only one.
If we transmute the greed and harmful actions that invade and poison our sacred home, then wouldn't governments relax their need to oppress? Wouldn't communities soften their hearts and come together in peace? Wouldn't our personal relationships be sweeter? Our relationship with ourselves holier?
And our bodies…what about them?
In deep soul writing about this, I found myself thinking about death. My death. Your death.
When we die, whether we choose to have our ashes scattered or our bodies buried, we are all going to return to Mother Earth. Dust to dust.
We emerged from the earth, through our mother's wombs. And we will return to the earth into our Mother's womb. Womb to womb. Human flesh to Earth flesh.
Perhaps this is old news to you. I hope it is. But for me this morning, it's fresh and new. And it's visceral and visible.
I am my Mother Earth and she is Me.
What is done to Her is done to me.
When I disrespect Her; I disrespect myself.
If we taught our children this, just think how different our lives would be. There would be sparkling clean water. Glorious fresh air. Abundant healthy food. And we would be healthy—and happy, would we not?
When Kahu Lāhela asked me to create a Ho'oponopono intensive for Mother Earth in March, I said yes without really understanding just how profound this intensive would be. But the moment I said yes, ideas began to flood into me. I am certain they come from our Mother. I can feel her smiling in anticipation of our sacred healing prayers. Here are few new practices we'll experience:
whole new full body anointing that unites the 7 chakras with the 7 directions
meditation to enter the skin of Mother Earth and receive her personal message
new version of Ho'oponopono to transmute any negative aka cords around Mother Earth
new Mother Earth holding practice
new walking prayer to walk gently on the surface of our Mother, knowing we are walking on all our ancestors, and our own burial grounds
Won't you join us?
I didn't plan this final invitation to join Ho'oponopono for Mother Earth to come out on such a sacred day. But it does feel like the perfect time to answer the call to participate in a global soul community gathering to create transfiguration on earth.
Thank you to everyone who registered after last Sunday's letter. 
I can have 100 live on a call, which translates to 130 registrations because not everyone can be live on the sessions. The intensive is now 2/3 full.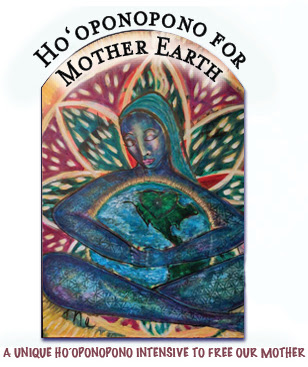 We open next Saturday, March 9, at 2-4:15 pm Eastern. (world clock for all time zones on the intensive page.)
Watch the vide Lahela and I made and read about our sacred purpose and our schedule.
When you register, notice that there are 3 options, including a self-selected scholarship for those who could not otherwise participate.
to contributing our energy, our love, our prayers to the transfiguration of our Mother Earth, 
Janet