Because They Could Not Speak
2022 the year we learn to listen to love
Week 8--in which we acknowledge the responsibility to speak for those who have been silenced
Friends, soul writers, mystics, and lovers of prayer,
Today's Notes from the Field will be short and super-focused.
As you read this, I am preparing to open a radical prayer gathering with Rabbi Tirzah and Emma Kupu in the Theatre of the Miraculous today at 2pm Eastern.
Emma's cosmic celestial insights and Tirzah's ancestral healing teaching and guided meditation are all designed to help us navigate the roiling celestial seas as Pluto pulls into the station of the United States' Natal Chart at Capricorn 27.
We have so much to learn. So much to experience. So much to heal.
And this time, there's no pretending we don't see and smell and hear all the elephants stomping around in the room.
Pluto is making sure of that.
My contribution to this prayer gathering is, duh, prayer. I like to open the Theatre of the Miraculous with a prayer. But what prayer for such a momentous time? As I pondered a possible opening prayer, I suddenly remembered that I'd been given the perfect prayer last July during The Return of the Witches pilgrimage.
In the pilgrimage, Suzi von Mensenkampff who lives in Ireland and Anne Vetter who lives in Germany, took us to Lemgo Germany where two generations of women in Suzi's husband's ancestry were murdered as witches.
Suzi and Anne visited the house where the mayor who condemned the Mensenkampffs had lived. It is now a witch museum. They entered but couldn't bear the energy, the visceral sense of the horror that happened there. So they left, but on the way out, they asked where the women were burned alive. The guide gave them directions to a forest outside town.
Suzi and Anne found the forest and were meandering through the trees looking for a spot to plant a few crystals to acknowledge Anneke and Lisbeth Mensenkampff, who died there in 1632.
Suzi started digging a little hole under one tree, when Anne, who was standing further back taking photos, said, "Suzi, I think you better look up."
We experienced a lot of miraculous things in the pilgrimage, but this tree simply stunned us all into silence.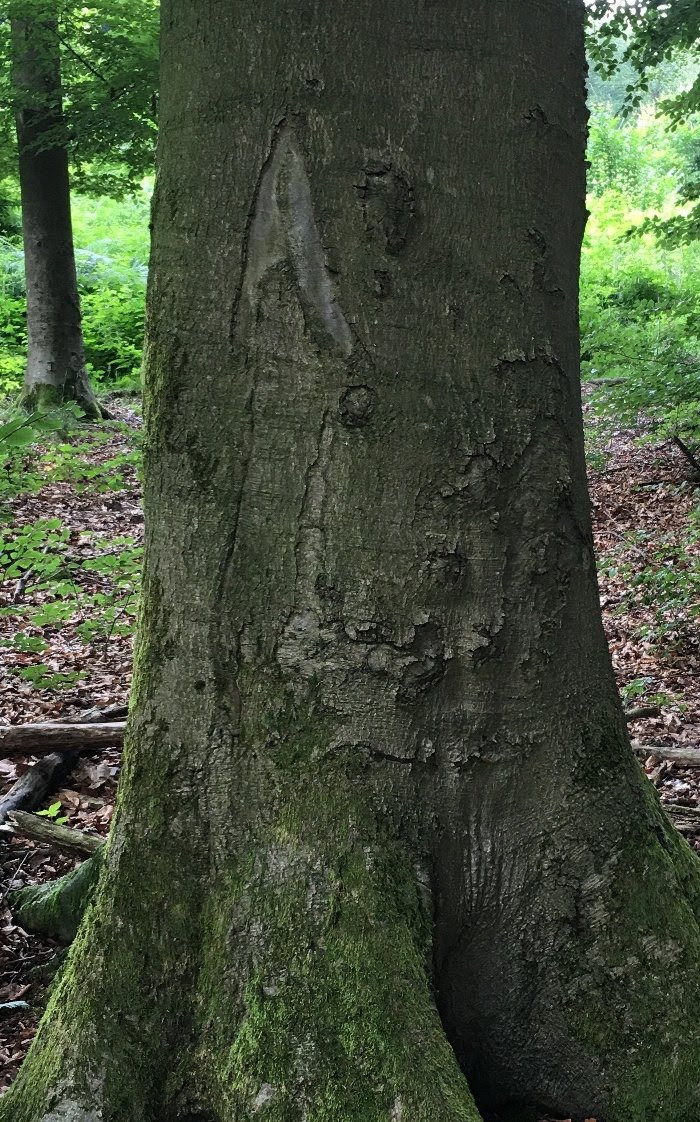 A few days later, I was awakened in the morning with this sacred prayer. I thought it was for the witches. And it is.
But Pluto is pointing out that those who could not speak are ALL who have been silenced by patriarchy, not just in the past but right now, today:
native peoples whose lands were stolen
enslaved peoples dragged to the Americas to create wealth and still denied a fair share of the countries they created
women tortured and murdered as witches
children working full time until child labor laws finally took them off the streets and into schools
workers injured or dying in ghastly conditions
prisoners locked away and forgotten
trans people murdered on the street
and so so many more
This prayer is for all of them. And for all of us who have been afraid until now to speak.
Because They Could Not Speak
©Janet Conner July 14, 2021
Because they could not speak
I must
once for me perhaps
but always twice for them
They had to silence their words
They had to hide what they knew to be true
and still the horror would not end
They confessed because they had to
They consented, surrendered, retreated
They gave up, gave in, went silent
And still they died
because someone wanted them gone
They were murdered
Yet I live
They were silenced
Yet I speak
They call me now
They call me to speak the truth of what was done
to them and to the whole world
Their words are arriving
I open my mouth
I cry
I remember
I know
They are alive
They speak
They want to be heard
So gather, gather now, and listen
Pluto is gathering us and we are listening.
If you wish to join us today or watch the recording, please register.
Reckonings: Pluto Returns!
Part 1 The Myth of America
to the sacred responsibility of giving the silenced a voice,
Janet
PS: You can read and share all my Notes from the Field from the blog section on my website.
You can hear Hyldemoer of Wyrd and me read Notes from the Field on YouTube. It's great fun because I get to speak directly to you and show you whatever I'm talking about. And get interrupted by Hyldemoer.
You can subscribe and ring the bell to get a notification when the next Notes from the Field is ready.
You can also join my professional Facebook page.
website: janetconner.com
Facebook: janet conner prayer artist
YouTube: Janet Conner