Cherish your body through Original Prayer
Spirituality and the body have not been the best of friends.
And until we bring them together, not just as friends but as lovers, the patriarchal insanity destroying our world will not end.
The moment is now and the sacred ground is the body—the female body.
If you grew up in any of the patriarchal religions, you picked up pretty quickly that the body was a problem. It was somehow dirty and unworthy. The whole point of prayer and the spiritual life seemed to be about transcending the body, or at least ignoring it.
In my Roman Catholic childhood in the 50s and 60s, the nuns didn't beat around the bush. They said things like: don't linger in the bath. Maybe that's why I soak over an hour each night luxuriating in sacred anointing oils. (Take that Sr Mary Margaret.)
Looking back, we can laugh, but at the time I wondered about my mother letting me wear patent leather shoes, because the nun said boys would look up my skirt.
Good lord.
And the boys. Oh, how they suffered.
They were told flat out that touching themselves was a sin—a sin for heaven's sake. I did my small part to thumb my nose at this insanity by buying a huge water heater and letting my son stay in the shower as long as he wanted.
I can laugh now, and you undoubtedly laugh at the nutty things you were taught too, but you know what? That stuff went in.
And even if you were not raised in a strict religious setting, those insidious ideas still penetrated your skin. You couldn't avoid them. They were in the air.
And, if perceiving your body as an impediment to holiness wasn't problem enough, the culture added the impossible goal of making that body look so fabulous that boys couldn't keep their hands off.
The game was unwinnable on all levels—religious and secular—wasn't it. But our mothers never told us. Because their mothers never told them…and on and on and on.
Here we are, finally past the conditioning. We can intellectually unravel what we were taught. We can even laugh at it. We can say things like "my body is a temple," but somewhere deep inside there is a part of us that doesn't quite believe it.
After reading all the books,
taking all the yoga classes,
after years of therapy,
countless conversations with friends,
still there is a wound.
and it's somewhere in the body
I carried this wound for a long long time. Not even knowing I was carrying it.
But as I walked deeper and deeper into The Mystic, following the voice of the Divine Feminine where she wanted to take me, I came to a gradual awareness that my body is not only not the problem, my body is the salvation.
My body is more than a temple for the divine, my body is divine.
This is beyond an idea. This is a living sensation. A deep body knowing. You can't learn that your body is holy, you feel it. And you feel it in your body.
So how do you get there?
This may seem like an odd answer, but my answer is prayer.
Obviously not your father's patriarchal anti-body prayers, but a whole new kind of prayer.
Prayer that cherishes the body.
Being a prayer artist means I am called to redefine prayer. I am called to pry open that crusty old box that has been nailed shut for 5,000 years and tell a whole new story about prayer.
An expansive story about prayer that is luscious, sensuous, and thrilling. Prayer that sets your heart on fire. Prayer that brings joy back into your heart and love songs into your throat.
Prayer that moves your body. And moves it with love.
It took me a while to come up with new definitions of prayer. One of them is "Prayer is Sacred Medicine."
In deep soul writing I wondered about this term medicine. How is prayer medicine? How does prayer heal? Here's what came:
Prayer is real prayer when it:
cherishes the body

embraces the heart

expands the mind

enchants the soul
That word—cherish. I feel weepy just saying "cherishes the body." Because none of my childhood prayers cherished my body.
Just think how radically different our world would be if every prayer we said cherished our bodies, our lovers' bodies, our children's bodies—even our enemies' bodies.
Prayer that cherishes the body is radical prayer.
At the precise time that I was coming into my new definitions, Keren Brown showed up in my prayer intensives.
Keren is a dancer. A holistic health coach. An expert in living an awakened midlife. And a totally delightful human being.
I love her work so much I asked her to join the September intensive Emma Kupu and I are creating to heal our womb stories. Keren will be creating movements to dance our wombs into wholeness and health.
Shortly after I invited Keren to join the intensive in September, she invited me to join her in her online event: How to Love and Enjoy Your Body Now.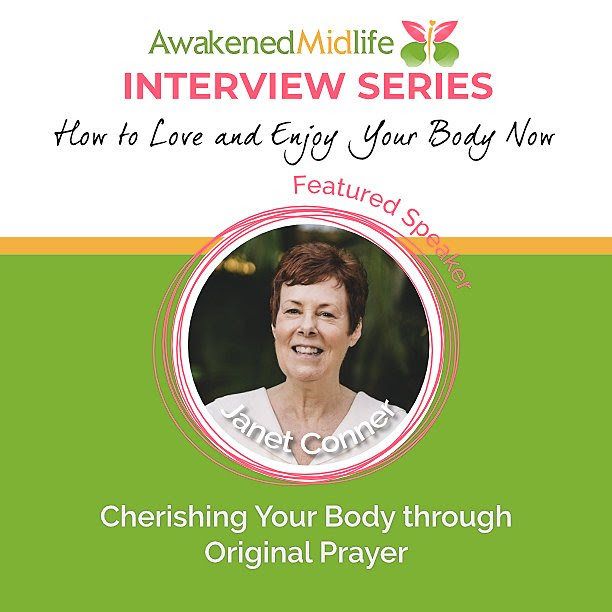 Couldn't say yes fast enough!
Keren has invited 6 other women to share their expertise on all facets of midlife health from energy tools to nutrition to dealing with perimenopause, all the way to my part: full body prayer!
This is my first opportunity to delve into the definition of prayer as Sacred Medicine.
I do hope you'll join us. I think you'll love Keren and all her other guests.
The event is online all next week. There's no cost. But you do have to register to reserve a spot. It opens tomorrow, Monday May 20 and my full body prayer conversation with Keren is next Sunday, May 26.
How to Love and Enjoy Your Body Now
to cherishing your body through Original Prayer!
Janet
PS: My birthday gift is still running.
Click to see all my intensives. Put all the On Demand intensives you want in your cart and add the coupon code Birthday35 to get 35% off the already reduced fee.
PS: Want a whole weekend of Original Prayer?
Join me and the musicians in Sofia for the first and only Original Prayer Weekend Retreat June 14-16 in St Paul MN. Check out the new video with Sue Kosharek about her goddess oracles.