What will you hear when you stop, really stop?
"The labyrinth in Chartres Cathedral is created out of 272 stones inlaid in the floor of the nave...each stone representing one day of human gestation in the mother's womb."

Lauren Artress, The Sacred Path Companion
Friends, soul writers, and lovers of prayer,
There is so much bubbling up right now. And I've had to be very still and quiet in order to notice what is being given to me. If I didn't have a context for the world's chaos or mystical prayer practices to help me cross the thresholds between worlds, I am pretty sure I would feel lost.
But I don't feel lost. Unsure, yes. Unclear about what is mine to do and what isn't, yes. Unable to see the big picture with clarity. yes.
But I know I'm moving through one small snippet of a very long human story—a story I do not understand. And yet, a story that is mine. Mine to experience and mine to contribute to.
The question of the moment for me is: What is mine to do?
If I ask, What needs to be done, the amount of tasks is utterly overwhelming. Everyone everywhere is in need of healing. Physical healing. Emotional healing. Spiritual healing. Economic healing. Racial healing. How can I even begin to make a difference, even a wee one?
And so I sleep. A lot. And when I wake, I move slowly, but mostly I stop. I sit. I read. I soul write. I stare out the window. When I look up from reading, my eyes seek the eyes of the large magnificent Goddess painting across the room. I talk to her. I ask her questions. Sometimes she answers.
Right now, as I type, I stop often to look up into the eyes of Archangel Gabriel on the Greek Icon painting over my desk that came to me in a most mysterious way.
It's dinner time on Saturday and I am just now beginning to write Sunday's Notes from the Field.
And I don't know what to say, so I look at her. I think she's answering.
I ask her, What is mine to do?
Because I feel a little guilty that I haven't accomplished what I set out to accomplish.
The next episode on Praying at the Speed of Love? I delayed it.
The next Prayer Vigil? I don't know if that will be recorded in time for next Friday.
The new intro I'm to write for an upcoming relaunch of Writing Down Your Soul? Haven't started.
And the next prayer intensive? I got my instructions at the end of April and here it is the end of June and I've missed the first deadline to tell you about it and invite you to register.
I know it's about the labyrinth—the wild wonderful womb of the Divine Feminine we call a labyrinth.
Did you know a labyrinth was a 3-dimensional sacred womb space? I didn't. Not intellectually. I've had profound experiences on labyrinths, but I didn't know why. I didn't know how a labyrinth works. That is, until I read Lauren Artress's second book, The Sacred Path Companion and found my answer. Lauren writes:
"The labyrinth in Chartres Cathedral is created out of 272 stones inlaid in the floor of the nave. When I began to make frequent pilgrimages there, my friend Francois Legaux, dean emeritus of the cathedral, told our groups that each stone symbolizes one day of human gestation in the mother's womb. At first, this seemed like a bit of French Roman Catholic piety. But over the years, it has become for me a significant way to understand the labyrinth. It is a birth canal. It is the womb of the Divine Mother. It births those who come in search of manifesting their Soul's Code. It soothes our fears and allows us to be authentically who we are. It catapults us into applying our gifts in service of all sentient beings and in serve of the earth."
I know this is true because I have had this experience on labyrinths. Here is a photo of a labyrinth I stumbled upon at a Franciscan retreat center in Cedar Rapids Iowa in 2012.
I walked in and sat down on the lovely stool over the creator stone. I just sat there. No thoughts, no ideas, no questions, no nothing. I just sat there noticing the fall leaves swirling about me like yellow snow.
Suddenly, I felt a presence in front of me. A large being bending down to speak to me nose to nose.
I held my breath, then clearly heard, "Your soul wants one thing."
I've been following the trail of that one thing ever since.
Sometimes I think I know what it is. Most of the time I don't. Surely it's about prayer, prayer artist, original prayer, mystical prayer that carries us across the threshold in the mystical theta brainwave state…but maybe it's more than all that.
My job, I sense, is simply to be still and let that angel return to tell me more. And she does return.
She shows up on the page when I soul write.
She swims through my dreams beckoning me to follow.
She whispers in the night.
She prays the rosary with me and cuts negative aka cords in Ho'oponopono.
She anoints my body with sacred oils as I look in the mirror, seeing glimmers of her looking back.
She shows me the living presence of the Divine Feminine in the mystical Tree of Life.
But I thought I had to wait for quarantine to end to meet her once more on the labyrinth. I thought I had to be outside on a big glorious 11-circuit labyrinth like the one in Iowa.
Can you hear her laughing?
She nudged me to contact Catherine Anderson, a goddess of play if ever there was one. Catherine facilitates labyrinth experiences with Lauren Artress at Chartres, Ghost Ranch and so many other sacred places.
Catherine has two labyrinths in her back yard in Charlotte North Carolina.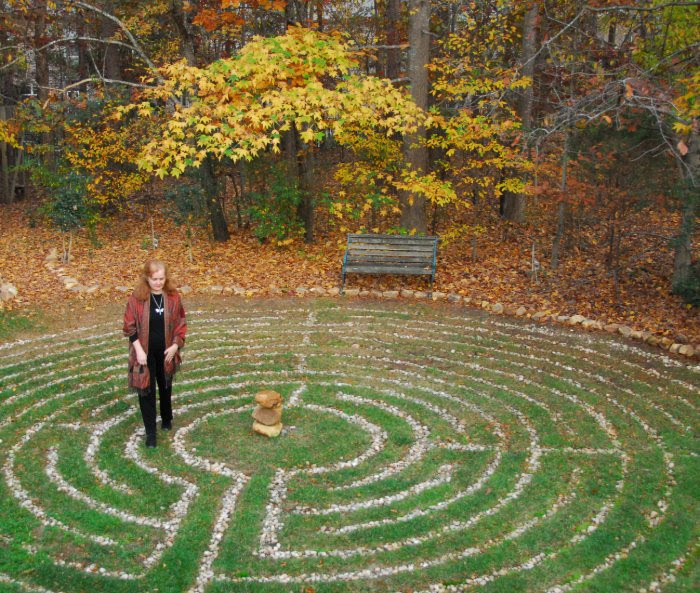 It was there that I first stepped onto a labyrinth and discovered something important:
You don't walk a labyrinth; the labyrinth walks you. Like any mystical prayer: "You are not praying; you are being prayed. Prayed at the speed of love."
But, I asked Catherine, how can we "walk" a labyrinth when we're sheltering at home?
She laughed. Finger labyrinths, she said!
Even labyrinth experts like members of Lauren Artress's Verditas labyrinth society are all discovering that tracing a labyrinth pattern with your finger tips is just as evocative as an upright walk with your feet.
How can that be?
Because the transcendental power of the labyrinth is in the archetype of the labyrinth itself. It is the womb of the Divine Mother and it is She who carries you through.
So Catherine and I finished the description of the new labyrinth intensive an hour ago. And we recording a delightful video with photos of her labyrinths. It will all be ready for you, next Sunday, July 5. A week after I planned.
Until then, I invite you to stop. Sleep. Rest. Stare out the window. Soul write. Soul read. Pray. And listen. Someone is whispering. 
Janet
PS 1: Birthday Sale
My birthday sale ends Tuesday. Enter 2020GIFT in the coupon code and you will receive $22 off each
PS 2: Prayer Vigils 
All the vigils are now stored on a special page on my website. A new one comes out each Friday at 2pm eastern, but you can watch any time.
Prayer Vigil to make love visible 
Ho'oponopono with Kahu Lahela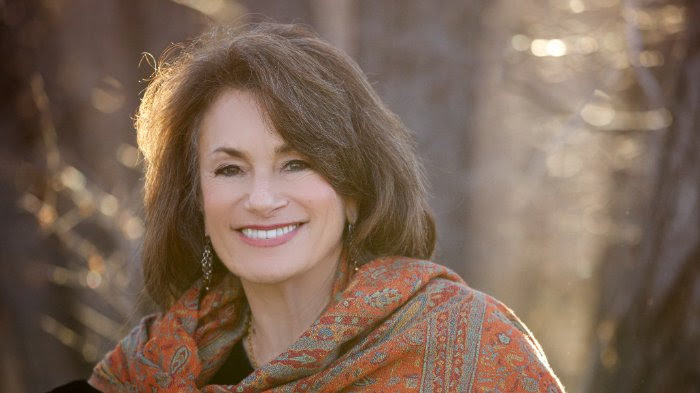 Prayer Between Contractions with Rabbi Tirzah 
The Black Madonna, Nigra Sum Sed Formosa with Alessandra Belloni--a great gift on Juneteenth!
Meghan Don on Healing Organs with Qigong