Jeanne d'Arc has an invitation for you
2022 the year we learn to listen to love
Week 21--in which Jeanne d'Arc and Black Moon Lilith conspire to get our attention
Friends, soul writers, mystics, witches, and lovers of prayer,
At this time last year, 85 of you were preparing to join me for a radical event, The Return of the Witches, Jeanne d'Arc Listening Pilgrimage.
That pilgrimage changed me. It changed all of us.
By the closing celebration 13 weeks later, many of us were experiencing real change: some of us ended relationships, quite a few moved, many made dramatic career decisions.
But there was one thing we all had in common.
At the closing ceremony, we were surprised to discover that we all wanted to explore deeper and more beautiful creative expressions. We honored and celebrated and applauded one another as we took turns declaring our commitments to write, to paint, to dance, to sing….
Perhaps no one experienced a more dramatic change than Suzi von Mensenkampff.
I've written about Suzi's discovery in Germany before. But it bears repeating today because what happened to and through Suzi last summer is now returning as a miraculous gift for all.
During the pilgrimage, we followed Suzi as she left her home in Ireland to travel to Germany where two generations of her husband's family were executed as witches in the 16th and 17th centuries. Two!
After visiting the witch museum in Lemgo Germany, she and her friend Anne Vetter asked where the sisters, Anneke and Lisbeth Mensenkampff, had been murdered in 1632. They were given directions to a forest outside town, where they stumbled upon a tree that was somehow scarred with giant capital letters A and L.
We were all too stunned to do anything but stare at the picture Anne took of the tree.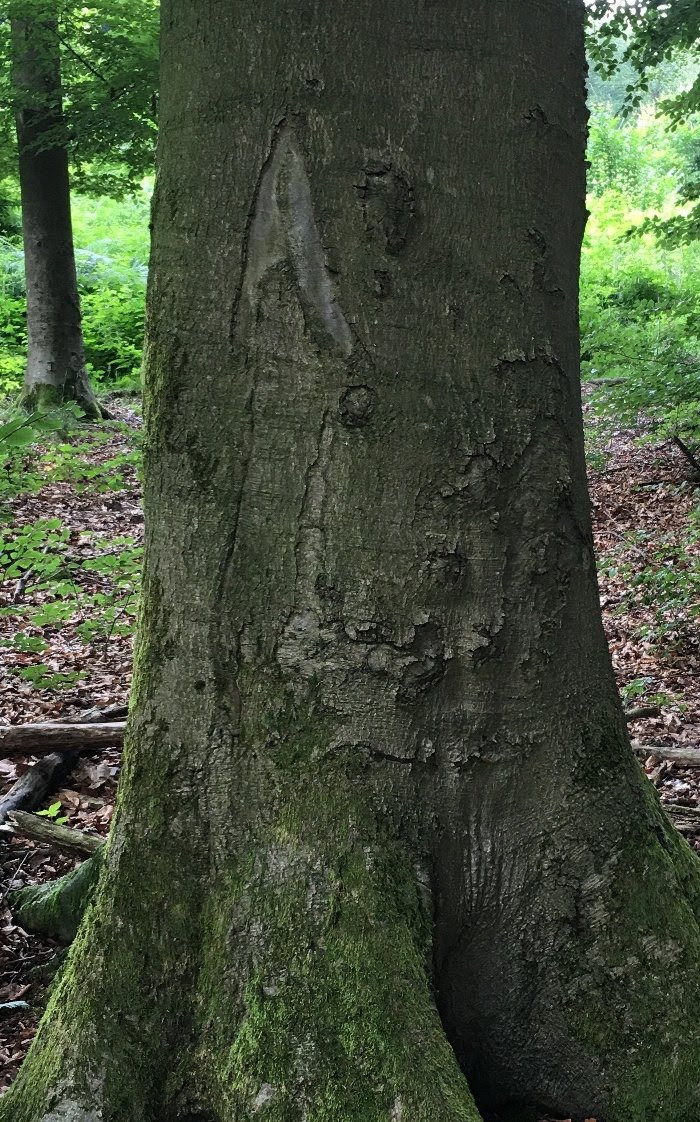 During Suzi's time in Germany, she felt her grandfather-in-law, Ernst von Mensenkampff, calling her to step into her gifts as a medium.
No one who was in the pilgrimage can forget Ernst. He was present at every ceremony shouting through Sabin Bailey:
"Our story is not history. It is still happening today, right where you all live! Pay attention. No one intervened on our behalf, but there is something YOU can do now, today! What is your part? What will YOU do?"
His call reverberates right through to today. And feels particularly prescient as we watch patriarchal religious fanatics threaten to do to women exactly what has been done to women for centuries: dominate, control, abuse.
Ernst was right. It is still happening right here, right where we live. And each one of us has to finally ask ourselves: What is mine to do?
Suzi was terrified to say yes to being a medium. Wouldn't you be? Being a medium—listening to and recognizing the voices and requests of the dead—is not your average career choice. And witches got murdered for this not so very long ago.
But Suzi said yes anyway. And ready or not, when she got back home, she started studying with world-famous mediums and developing her own mediumship skills.
After the pilgrimage ended last August, I wondered, "What's next?" I felt something was coming, something more was needed, but didn't know what. So I waited. And waited. And waited some more.
Little did I know I was waiting for Jeanne d'Arc. Only she didn't come to me; she came to Suzi.
She came on January 11—a day that has great mystical meaning for me. If you've read the new introduction in Writing Down Your Soul, you know that January 11 is the day Archangel Michael crashed my first book signing in 2009 to deliver the radical message that deep soul writing is "A Romance."
Then, in 2018, I had an encounter with Jupiter on January 11. Yes, I know that sounds wild. Let me tell you, it was! But the fact that it happened on January 11, my all-time favorite "holy" day, was confirmation for me that that experience was a real mystical encounter. And proof that astrology and the planets are not ideas; they are real, they are alive, and like everything else in the universe, they are in conversation with us.
But I had no way of knowing last January 11 that while I was having my morning coffee, Jeanne was riding into Suzi's meditation room in Ireland. Scaring the dickens out of her.
From astride her massive white charger, Jeanne shouted down at Suzi something about 12 this and 12 that. She must have given up on Suzi understanding, because she finally blurted out, "Call Janet, she'll know."
Suzi rather sheepishly asked if we could meet on zoom. She said, "Jeanne told me to call you." Well that's not your average email, but sure. After all, I adore Jeanne and she's with me (literally) always.
So we got on Zoom. Suzi tells the weird meditation story. I listen. I jot down everything Jeanne said. Here's just a bit of it:
12 moons
12 witches
12 shadows
12 gifts
12 seeds
12 truths
modern mystic's school
100 critical mass
initiation
I listened. After ten minutes of 12 moons, 12 shadows, 12 gifts, 12 witches, and something about initiation, I leapt out of my chair screaming,
"I do know! I do know! Suzi, I do know!"
I proceeded to tell Suzi about the massive initiation ceremony I received in June 2019, when I was staying with my sister Mary and her wife Mary'n in St Paul Minnesota.
Over a three-day period, I received detailed instructions on what was going to be called "Goddess Rising." It was to be a deep in-person initiation into ancient Goddesses starting with Hecate and Lilith. It had Goddesses names, stories, prayers, and gifts, all interwoven with phases of the moon. My sister-in-law even made a 5' diameter quilt to be used as the floor cloth for the ceremony.
But Covid came and I never created Goddess Rising.
So Suzi and I thought maybe this thing Jeanne wanted might be called Witches Rising. We used that as our working title.
Two weeks later, I got another cryptic message from a friend who had been in the pilgrimage. This time, it was Cathy Pratt in Vermont. She sent a sheepish facebook message: uh, Janet…. I know this is weird, but Black Moon Lilith just popped into my deep soul writing with a message for you.
Well, sheesh, at this point, I thought, why not. If Jeanne can ride into Suzi's meditation, I guess Black Moon Lilith—whoever she is—can talk to me through Cathy. So I said, sure, send the message.
I still haven't recovered. It was the sweetest most beautiful blessing I've ever received.
When it arrived, I immediately contacted Emma Kupu Mitchell in Hawaii because I knew she could help me understand who Black Moon Lilith was. And she did.
Black Moon Lilith, it turns out, is the magic in your natal chart. She holds the silent secret self you have carried lifetime after lifetime, waiting until it's safe to acknowledge her.
That time has arrived.
So I told Suzi, that Emma needed to join our little exploratory team. The three of us have been working for five months to bring Jeanne's request to life.
I'm certain it was Jeanne who whispered the rich evocative name for this mystery school in Emma's ear: Re-membering the Songlines of the Witches.
I see now that it was Jeanne who gave me the structure for the Goddesses initiation in 2019, knowing it would need a long three-year gestation.
And it was Jeanne who guided me to create The Return of the Witches to give us all a taste of the devotion the witches have for us and their desire to help us get ready to embody our full calling.
Jeanne knew we would need Suzi's mediumship gifts and Emma Kupu Mitchell's vast astrology and numerology gifts, plus a whole team of midwives—8 altogether—to bring this mystic initiation to life.
Re-membering the Songlines of the Witches is far and away the most powerful and important event I have ever offered.
It is a full-bodied, time-bending, magical mystery school, with 11 witches from the "once was" stepping forward to bring us the 11 sacred seed medicines we need to step into our own fullness, our own mystic witch.
And who is that, you might ask. Your own mystic witch is the 12th witch. The culmination of the mystery school. She has been waiting for you for lifetimes. Waiting for the moment when it's safe and necessary to bring her to life.
The landing page for Re-membering the Songlines of the Witches is big. It has to be.
Take some time to explore just how rich this experience will be for you.
Start with the opening video Suzi and Emma and I made so you know how Jeanne and Black Moon Lilith called us.
Enjoy the wild story behind the image for Songlines—The Mirror of Memory
Then, listen to Suzi and Emma and I talk about the array of mystical traditions we'll be weaving together.
Play with the drop-down menu of our four moons--each one has a different and essential message for you.
And be sure to watch Hyldemoer's short video. She totally nails what this mystery school is really all about.
And please read Jeanne's final message. When I typed it, I couldn't help crying. It is she who is calling you.
Re-membering the Songlines of the Witches opens on June 21, the Summer Solstice, in a sacred opening ceremony at 2pm Eastern conducted by Sabin Bailey and Kahu Lahela. I will be leading us on a guided meditation into the Mirror of Memory to reveal the hidden labyrinth and open you to receive messages from the four moons and your 12th witch.
We will complete our mystery school a year later, on the Summer Solstice on sacred witch burial ground in England.
Thank you, Jeanne d'Arc, for trusting me and Suzi and Emma to bring your sacred mystery school to life.
Re-membering the Songlines of the Witches
to saying yes to the biggest mystical invitation of our lives
Janet
_________________________
You can read and share all my Notes from the Field from the blog section on my website.
You can hear me and Hyldemoer read Notes from the Field on YouTube.
website: janetconner.com
facebook: janet conner prayer artist
YouTube: Janet Conner