The labyrinth has a voice and she is speaking to you
Friends, soul writers, and lovers of prayer,
The labyrinth has a voice. And I experienced it this morning. Here's what happened.
In the night, I saw myself stepping onto a labyrinth for my daily anointing practice. I didn't write anything on the yellow pad that is always in bed with me, so I think I might have either dreamt this or perhaps I saw it during one of those liminal moments as I turned in bed.
I don't know exactly how it came to me, but when I sat up this morning, I knew I would begin my anointing by stepping onto an imaginal labyrinth.
Now, anointing for me is a living prayer practice. Anointing, like all Original Prayers is mysteriously forever ancient and yet in the moment I touch my body, anointing is alive and fresh.
Anointing isn't something I do. It's something done to me. Anointing in the mirror is my great teacher. And I'm always surprised by what she teaches me.
Today, as I stepped onto the imaginal labyrinth, I felt myself standing in the center of the labyrinth. I paused for a moment and then felt called to turn my body to the East and listen to the Voice of the East.
The East told me what to say and what to do. The East opened my eyes to see the beauty of the shoreline. The East opened my mouth to taste the salt air. She caressed my skin with the kiss of an ocean breeze. And asked me to put my bare foot forward and touch the water with my toes.
It was all quite lovely. Then my body took a quarter turn to face the South, and the game continued all the way around the four directions, four seasons, four landscapes.
After the four directions prepared me, I was back facing the mirror and ready to anoint.
This was a whole new and very sensuous preparation for the sacred art of anointing.
And such a confirmation that anointing is interwoven into the labyrinth and into all five Original Prayers.
When I finished, I had to sit on the edge of the bed and capture what I was experiencing on my yellow pad. I was afraid if I didn't write it down right away, I might lose some of the delicate details--all to be shared in the upcoming labyrinth intensive.
On the yellow pad, I realized why the labyrinth and deep soul writing are such close kissing cousins. They are both thresholds.
The mirror in anointing is a threshold between worlds.
The page in deep soul writing is a threshold between worlds.
Both are called forward through the hand.
The sacred oils on the hand in anointing.
The sacred pen in the hand in deep soul writing.
I began signing emails 12 years ago with, "the connection is in your hand." But at the time, I was only seeing the written connection on the page.
Now, I see how the hand is a threshold for all five original prayers, including the labyrinth.
In our intensive with Catherine Anderson, we are going to awaken the Voice of the Labyrinth as we "walk" 3 kinds of labyrinths with our hands.
That was my morning. Then in the afternoon, I had a lovely planning session with Catherine to clarify the content of our 3 teaching gatherings exploring the Chakra Vuhya, 11-circuit Chartres, and 3-circuit ancient labyrinths.
We were talking about the labyrinth as the womb of the Mother, when Catherine suddenly stopped and said, "Oh! A deer is nursing two fawns in the yard."
She looked back at me on zoom and said, "Talk about mothering."
It felt like the Feminine Divine Mother was feeding the two of us. And showing all of us how effortless and beautiful it is to open your whole body—hands, feet, nose, eyes, mouth, skin—to Her love, Her guidance, Her embrace.
This is our first intensive with Catherine Anderson, so I asked her if she'd like to speak directly to you.
Here's the lovely note she sent about hearing the voice of the labyrinth.
Here is Catherine at the door of her studio in Charlotte North Carolina. You can see one of her labyrinths in the window.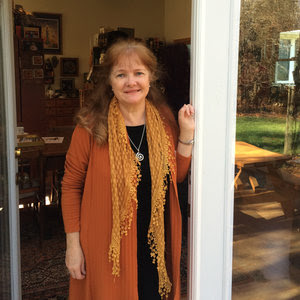 The labyrinth has a way of calling you.
The labyrinth first called to me when I was spending a week in Paris with my best friend from South Africa. When I had moved from South Africa to the United States, we made a pact to meet somewhere in the world every couple of years, and that year we chose to visit Paris – my very first trip there.
We decided we wanted to take a day trip out of the city and so I opened my trusty Rick Steve's guide to the day-trip section and the first thing I saw was this circular pattern which the book told me was the labyrinth found in Chartres Cathedral, about an hour outside Paris. So we took the train to Chartres and explored the beautiful little town for the day. Inside the Cathedral I couldn't find the labyrinth pattern, until I realized that it was covered by chairs! That was a disappointment, but I did manage to find a postcard of the labyrinth without the chairs covering it which I took home with me.
The labyrinth stayed with me through the years, and when I built my creative studio in 2007 I decided I really needed my own labyrinth to help me with meditation. I had been struggling to meditate but finding quiet within was really hard. I thought a walking meditation might help.
I had no idea how to build a labyrinth, but I also knew that all things are possible, and so I put the postcard from Chartres up on the wall of my studio, and every time I entered the Studio I would look at the image of the labyrinth and with my imagination superimpose it on the grass outside my studio.
Fast forward to today, and I have two labyrinths outside my studio, both made with inexpensive materials with the assistance of my husband and my son.
In 2009, I discovered the Rev. Dr. Lauren Artress and Veriditas, a non-profit which teaches people how to facilitate labyrinth walks. Synchronicistically (which is how I know I'm on the right path) they were offering a Training in North Carolina the next month.
Today I'm on the Faculty of Veriditas and offer qualifying workshops and labyrinth trainings myself.
I joined Lauren Artress in Ghost Ranch in 2019 to co-teach a workshop on "Seeing the World with Wonder" using photography and the labyrinth as our guides.
In May 2020, Lauren and I were to have led a pilgrimage to Chartres called "Unlocking Your Gifts: The Labyrinth as a Portal to Your Soul's Calling" using SoulCollage® with the Labyrinth. That trip is postponed until next year.
The labyrinth has taught me to trust and my wish is that it will teach you to trust too.
There is something about the winding path that calms my soul and lets me know I am held and I am safe. And I believe it has a lot to do with the life I have created for myself. It supported me to remember my calling and my gifts.
____________________________
Now do you see why Catherine is the perfect guide for our prayer intensive on the labyrinth!
She is a Veriditas Labyrinth facilitator and faculty member
She has led labyrinth pilgrimages to sacred labyrinths around the world
Catherine is a SoulCollage® facilitator trainer
She is a brilliant contemplative photographer
She is the author of award-winning books on creativity
In sum, she is a goddess of creative play
Catherine and I wrote the description of the intensive and made a fun video in which you can see multiple types of labyrinths. And the landing page has a few of Catherine's photos of labyrinths.
You do not have to purchase a finger labyrinth. Catherine is providing us with lots of printable materials. But you might fall in love with the labyrinth, as I have, and want a wood or clay one of your own. To help you find what you're looking for, Catherine will provide us with links to online finger labyrinths that she loves.
We open Tuesday, July 21 and meet for 3 consecutive Tuesdays July 21, 28, and August 4 from 7-9:15 pm Eastern.
We will explore the 3, 7, and 11 circuit labyrinth forms. Plus, we'll get a taste of collage as well.
We'll end with a delightful closing ceremony "walking" labyrinths together on Sunday, August 9th at 2pm Eastern so our friends in Europe and Africa can join us live.
And don't worry if you can't be with us live, everything is recorded.
Come and hear the Voice of the Labyrinth for yourself.
Labyrinth: Your Embodied Pathway to Rebirth prayer intensive
because the connection has always been in your hands, 
Janet