What can prayer teach you about prayer?
2023 the year we learn to listen to life
Week 36--in which we ponder the question: who will teach us to pray?
Friends, soul writers, mystics, witches, and lovers of prayer,
When tragedy strikes, how do you react?
Do you look at the images in horror, wanting to turn away but somehow can't?
Do you cry? Tears of helplessness. Tears of anger.
Do find yourself seething at the people and governments and corporations who could have prevented the tragedy but didn't?
Seek a way to donate so people on the ground get the money, not big charities who somehow always allocate the bulk of their income on "administration"?
Try to figure out how to help survivors directly?
Call friends because you need someone to talk to?
Pray for the dead? For the first responders? For the families?
Join a prayer circle?
When the shocking fire swept down off the vacated sugar plantation lands above Lahaina on Maui, I did all these things. All of them.
But something else happened, too.
Something I didn't expect. I don't yet have language for it, but something ancient has shifted in me, something I can feel but not yet name. And I can tell that it is not going to shift back. I am changed.
The change is happening in the unexpected confluence of mourning the dead and remembering the ancient truth about prayer. The truth before patriarchal religions got their grimy hands on the original deeply feminine joy and power of prayer, and condensed prayer to fit in a tiny rule-ridden box.
If you've been with me for a while, you know the wild story behind prayer artist.
If not, here's a very short version: a feminine voice whispered prayer artist in my left hour during the magic hour of 3-4am on February 24, 2018. And scared the dickens out of me. Because, I knew if I said yes to prayer artist, everything would change. And boy has it ever! And continues to change. The Lahaina fire is major piece in the ongoing metamorphosis of prayer.
Prayer is in charge, not Janet. This is the way it should be. Must be.
When I started teaching deep soul writing in 2008, I passed on what I had personally experienced, but in the end, I always said "Take it to the page, because deep soul writing will teach you deep soul writing."
I used to offer a course on becoming a published writer, too. In that course, I said, if you want to be a professional writer start writing, because "writing will teach you to write." I learned this cryptic all-powerful teaching from Annie Dillard, author of Pilgrim at Tinker Creek.
In The Writing Life (my fave book on writing), Annie writes:
(Read this aloud. It's a wild lesson on punctuation and poetry and performance, in addition to the best single teaching on how to write.)
"Who will teach me to write? a reader wanted to know.
The page, the page, that eternal blankness, the blankness of eternity which you cover slowly, affirming time's scrawl as a right and your daring as necessity; the page, which you cover woodenly, ruining it, but asserting your freedom and power to act, acknowledging that you ruin everything you touch but touching it nevertheless, because acting is better than being here in mere opacity; the page, which you cover slowly with the crabbed thread of your gut; the page in the purity of its possibilities; the page of your death, against which you pit such flawed excellences as you can muster with all your life's strength: that page will teach you to write."
Now, follow where this truth can take you:
Want to learn to meditate?
Meditating will teach you to meditate.
Want to learn to live with an open heart? Living with an open heart will teach you.
Want to learn to forgive?
Forgiving will teach you to forgive.
Want to learn to drum?
Drumming will teach you to drum.
Want to learn to rest?
Resting will teach you to rest.
Want to learn to say no?
Saying no will teach you how to say no.
It's endless. Add your own "want to" to the list.
The big one for me is obviously prayer.
Want to learn to pray? If I follow this litany, the answer would be "praying will teach you to pray."
But maybe not. Or at least, not at the beginning. Because when we approach prayer, we arrive already constricted by what we've been told about prayer. This isn't an accident. Religion has so successfully constrained prayer, that even a modern dictionary defines prayer as 3 things that could easily pass as the definition of patriarchal religion:
supplication
of an external god or god figure (they don't specific white male god, that's taken for granted)
following a formula (ten guesses who wrote all those formulas)
Does that sound like fun?
Does it sound delicious, surprising, ecstatic, joyful? Does that definition make you want to pray? When I read it for the first time, I cried. How in the world could I, one woman called to be a prayer artist and offer prayer intensives, possibly go up against three thousand years of conditioning on the form and purpose of prayer?
Friends encouraged me to come with a new word for prayer. But that didn't feel right. The more I struggled with what to call prayer, the more strongly I felt that prayer wanted to be called prayer. No new word was necessary. But a complete transformation of the word was necessary. And it was somehow my job (!) to redefine prayer.
I tried to wiggle my way out of it. Really? You want me to tell the Oxford English Dictionary and all the massive religions that they've got prayer all wrong? And I am going to set them right? You have to be kidding. Surely someone with a larger platform and a famous name should be doing this. Not me.
And you know the answer I got: Yes, you!
So, with trepidation, I took on the assignment to redefine prayer.
It's taken me 5 years. As you read this newsletter, I'll be sharing 7 thrilling new definitions of prayer in my current The A.R.T. of Becoming a Witch prayer intensive on our innate ability to cross the threshold between worlds. In modern brain science parlance, crossing the threshold means dropping into the mystical theta brain wave state. And that's where prayer, real prayer, original prayer, lives. In the mystical theta brain wave state.
We're half way through the intensive, but don't worry, this intensive and all seven in The Witch Sequence will be available on demand as they end. The first one on awakening our natural intuitive senses is now available on demand.
It's too soon for me to write a newsletter about where prayer is taking me as I pray for those who died in the Lahaina fire. I'm in a discovery stage. And I need to stay in that discovery place where the experience itself is teaching me. I guess I could say "praying for and with the dead is teaching me about praying for and with the dead." All I can say at this point is that it's an honor to discover what I am discovering about the original purpose of prayer.
One of the sweetest and most important things I did and continue to do is to join Kahu Lāhela Johnson's prayer circles for Lahaina.
She had the first one earlier this month and it is recorded and available on YouTube.
Her wife, Geralyn Camarillo also created a rose quartz chaplet and rosary in response to the call she received to pray and create.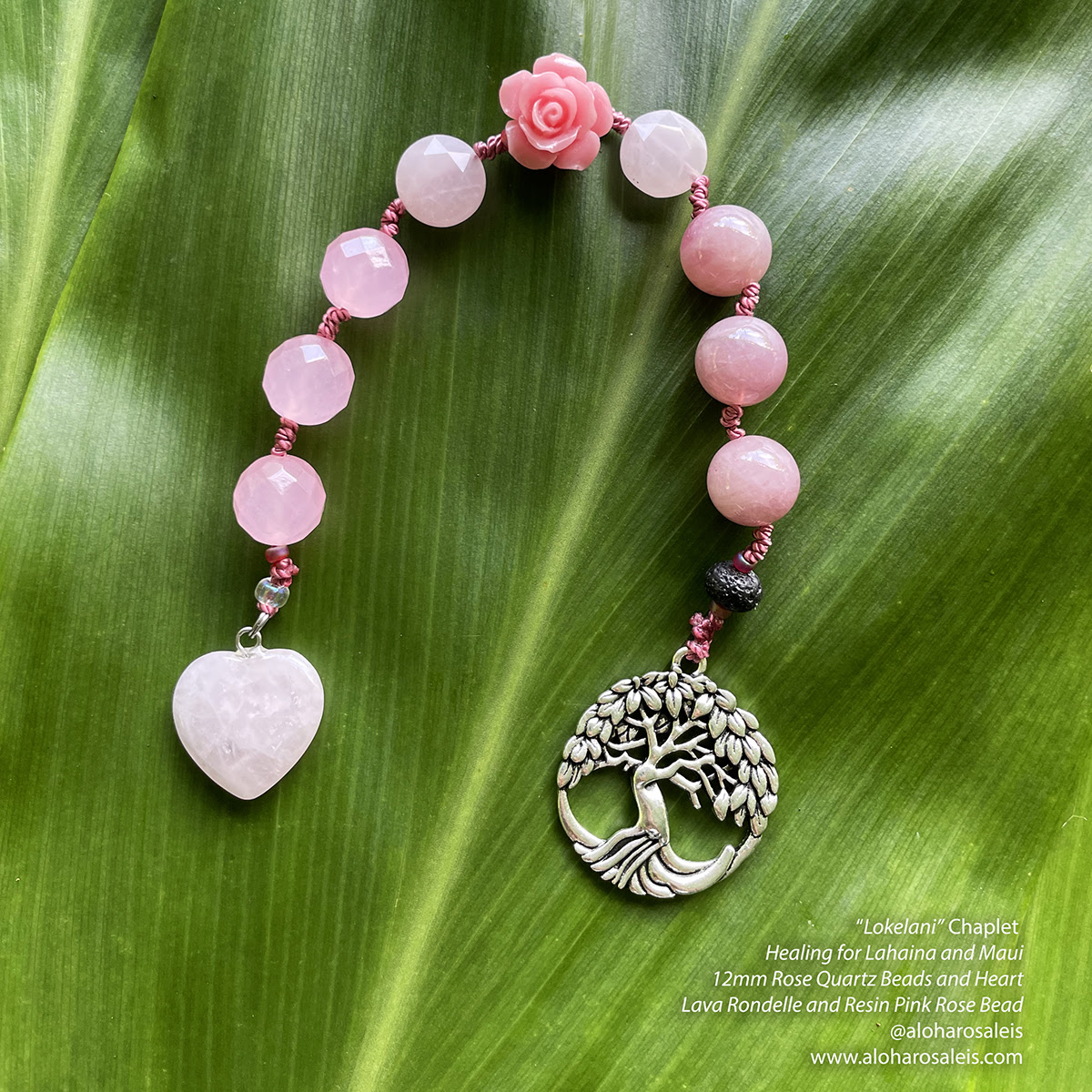 And my dear friend, Emma Kupu Mitchell, is offering a visual journaling class as part of her service to the people of Lahaina.
The next prayer circle for Lahaina will be on Saturday, September 30 at 9am Hawaii time, 12pm Pacific, 3pm Eastern, 8p UK.
To be certain you get the notification, subscribe to Kahu Lāhela's newsletter. Here's her website
And here's the recording of the first prayer circle.
And links to purchase Geralyn's chaplet and rosary
Finally, here's where to register for Emma Kupu's Creative Visual Journaling online retreat On Friday, September 29 at 10a HI, 4p Eastern.
Until next Sunday, may prayer teach you something about the beauty and power of prayer, 
Janet
website: janetconner.com
facebook: janet conner prayer artist
YouTube: Janet Conner